Social Development Month
Social grant beneficiaries  can now use their new SASSA MasterCards to buy groceries and pay bills, with, just one swipe. It's that easy.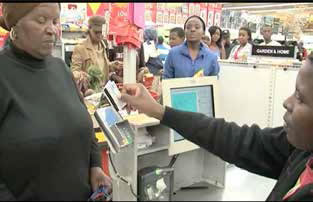 Eighty-four-year-old Nthabiseng Tshabalala from Orlando East receives an old age grant and loves her new South African Social Security Agency (Sassa) MasterCard because it allows her to shop without needing to have cash with her. "It is so convenient," she says.
Tshabalala is one of 10 million recipients of the new smart cards, thanks to Sassa and MasterCard. Having a card means that social grant recipients no longer have to wait for hours on end every month to receive their grant payments in cash.
The new cash-less system aims not only to improve the lives of the poor, but also to stop fraud and corruption, which is a huge problem in the payout of social grants. The rollout began in March last year when Sassa called on all beneficiaries to reregister on the system and have their biometric details captured. These details include fingerprints, voice and other personal information that are unique to you.
In just under a year, Sassa re-registered just udner 22 million beneficiaries. Because one card holder can receive multiple grants for beneficiaries in the same family, only 10 million people received the new card. "In many cases we have a grandmother receiving a grant for older persons, a foster care grant or a child support grant. This new system puts all the payments on one card, eliminating duplication and ensuring that only those who qualify recive the grants," says Sassa chief executive officer Virginia Petersen.
Beneficiaries can use the smart card at any store that accepts MasterCard. This makes it easier for you to shop or pay bills. Soon it will be possible for cardholders to get discounts on various things, including Rea Vaya bus tickets.
All beneficiaries who have not re-registered despite the many extensions provided by Sassa, will be cut-off from the system. Those who can prove they do indeed qualify for a grant will need to reapply for a grant from scratch. If you have lost your personal identification number (PIN) codes, simply go to your nearest Sassa office, be identified on the  biometric system and have your PIN code changed.