Youth matters
Nomzamo Mthethwa- Khoza has turned her love for indigenous trees into a lucrative business that produces various products and provides employment.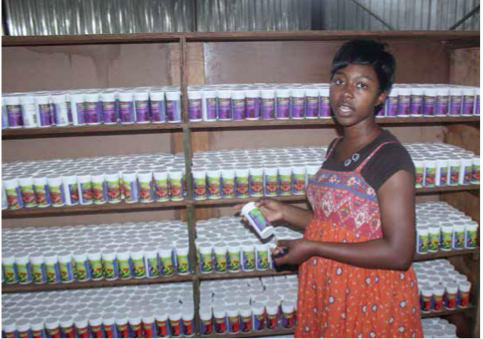 When Nomzamo Mthethwa-Khoza, 26, quit the corporate world in 2010 to follow her love for indigenous trees, she never dreamt that she would one day be crowned the female farmer of the year.
But Khoza came out tops when she won the top female exporter and the overall female farmer of the year award during the 2013 female entrepreneurs' awards. The awards are organised by the national Department of Agriculture, Forestry and Fisheries.
Khoza's farm and a processing plant are in Mnini near Port Shepstone. Her company is divided into two sections: People's Bio Oil (PBO) and Morana Fire for Africa.
She makes over 201 products, which include tonics, capsules, hair food, body products, spices and sauces made from the Moringa tree. All her products are natural and have no chemicals. PBO is the manufacturing section of her business while Morana is the brand under which the products are sold.
Her company employs 120 people and has 200 distributors of the Morana products countrywide.
Passion for plants
Khoza hails from eNkanyisweni, a village in Mbumbulu which is 13 kilometres from Dur- ban. She says though she studied accounting at Durban University of Technology she always wanted to do something different.
"I had a love for plants and it interested me that alien invasive plants were affecting our green lands in the country."
Alien invasive plants are plants that are not from South Africa and that effect plants grown in South Africa negatively.
"Around 2004, through our journey with my husband of wanting to learn more about plants and trees, especially indigenous plants, we found the Moringa plant. We did a lot of research about it and discovered all its benefits.
Years later - in 2011- we started our business, Morana, produced by PBO," says the soft-spoken Khoza.
The Moringa tree's leaves are rich in protein, vitamins A, B, C and minerals.
The struggle to get funding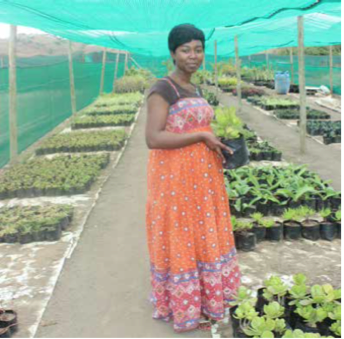 Khoza and her husband Vusi say that starting the company from scratch with no funding and not much business experience was not easy.
"The most challenging part of getting the business off the ground was that when we knocked on doors for assistance, nobody understood what we were doing. Farming indigenous trees was something unusual." The couple also made sure that they equipped themselves with knowledge by doing courses in agricultural studies.
They bought land from the local chief and sold all their assets to build capital to start the business because they had a vision.
"We also had a mentor who taught us how to make body lotions from the Moringa tree. Producing tonics was something that is in our families, which we learned from elders." She says whenever they mix products, they are taken to the laboratory for nutritional value testing and whether they are safe for consumption.
Today the couple also export their products to Mozambique and Argentina. "All I can say is that our business is doing very well."
Raking in the money
Khoza won R125 000 as the best farmer from KwaZulu-Natal. During the national awards, she won R250 000 for best exporting and received R500 000 for being the overall winner in South Africa.
She says winning all these categories was most unexpected and the money will help grow the business.
"I am a person that loves the environment, I always dreamt of living in a place far away, doing my own thing overlooking the mountains with a river flowing below my home."
A farm with a natural view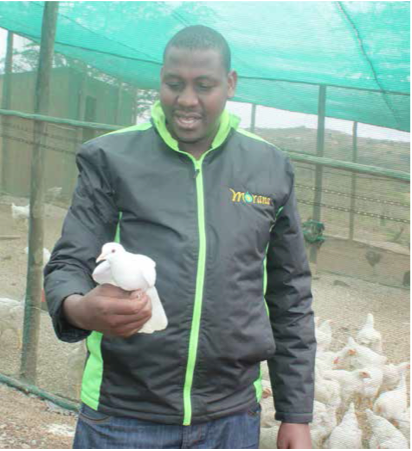 Her dream of living with the environment came true as Khoza's home is situated on her farm. The air is crisp and the only noise is that of the birds and chickens.
Her thatched roof home is on a mountain top where there is a stunning view of the mountains that surround her, the manufacturing firm and the nurseries that produce the indigenous trees. To complete the look, there is a river that flows close to the distribution firm but when standing or sitting at Khoza's lounge, one is able to see the river flow from the hill.
"We try by all means to make sure that everything we do is natural and organic."
Khoza not only produces products from the Moringa tree but also farms indigenous trees, flowers, chickens, birds, oyster mushrooms, herbs and will soon be farming tilapia fish.
The indigenous trees that she plants include Haworthia, which can be used for landscaping, the charm tree plant and the plum bush plant which is rich in vitamin C and helps boost the immune system.
She sells the plants to nurseries and plants shops. Her chicken farm works very closely with the local community as she buys maize from local small-scale farmers to feed her chickens.
"We are also in the process of running a programme to teach the local community how to farm chicken properly."
Her poultry farming includes cockatiels, quails and lovebirds, which she sells to pet shops.
"Oyster mushrooms are specifically for food security for all employees of the company from the area. We teach them how to farm and pro- vide all the seeds. Whatever they make from the mushroom farming is their own benefit."
To explore opportunities for expanding her business, Khoza is building a laboratory on the farm for testing products.
"We are also in the process of building a pack- aging area so we can plant manufacture and package all our products. We are also extending the factory to make it bigger."
Khoza says young people should not wait for opportunities to come their way, but should create their own opportunities.
"There is so much that you can do if you have a vision. Get out of your comfort zone. Everything that we do depends on agriculture."