Over the past five years, six previously unemployed villagers from Mahlathi in Giyani have set up and run a successful and growing cooperative that is providing employment and contributing to uplifting their community.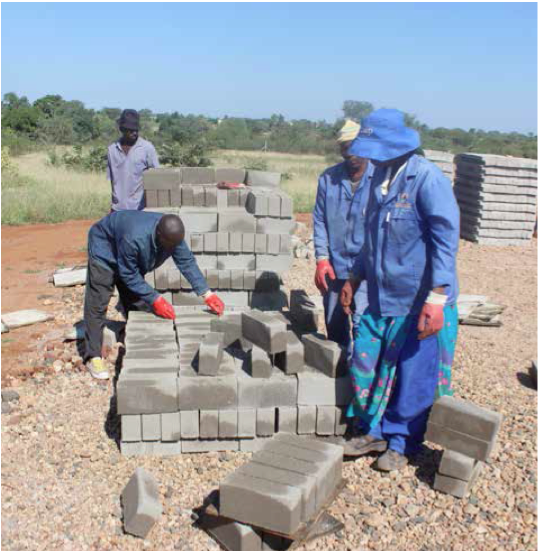 In 2008, six unemployed residents of Mahlathi village in Giyani set out to establish a cooperative to manufacture bricks, using stones that are abundant in the area. Samuel Makhongela recalls that in those early days they did not have any work experience.
"I had never been employed before working for this cooperative. In fact, all six of us were unemployed before starting this business", says Makhongela.
But with perseverance, the Ximambani Primary Cooperative was established to manufacture bricks, concrete stones and pillars. Chairperson of the cooperative David Baloyi explains that after struggling to get the company off the ground, in 2009 members approached government for assistance.
"Our request included getting assistance for buying a brick-making and stone-crushing machine to make concrete and bricks. The Limpopo Economic Development Agency (Leda) bought us two brick making machines, a generator and two pan mixers", says Baloyi. The stones are crushed and processed to produce about 9 000 bricks daily. Their material is sold to the community and contractors employed by government to build RDP houses.
Today, the cooperative is a model of success. It For more information on Leda phone 015 287 3000, email info@libsa. co.za to locate their 20 offices around Limpopo.
is registered with the National Home Builders Registration Council and employs 36 people.
The cooperative is involved in the construction of houses and also has a license for small-scale mining of sand and concrete stone.
It is 30 °C outside, the air is humid and from the small town of Giyani, it is about 30 kilometres' drive to Mahlathi village, where the cooperative is based on a plot of land given to them by their local chief. The rough gravel road winds past a couple of villages before I reach Mahlathi.
When I arrive at the cooperative there are groups of workers crushing, mixing and making bricks. Crushing the stone looks like a difficult job to do, especially in the heat that is essential for drying the bricks placed in rows. The smell of concrete and sand fills the work area.
Members of the cooperative say their lives have changed for the better. "We are acquiring skills to provide for our families. Not only do we have jobs but we can also create employment opportunities for other people", says Makhongela.
In March this year, to thank the community for supporting the business, the cooperative built three houses for community members who are less fortunate. "This was our way of thanking the community for supporting us as our company is growing every day," explains Baloyi.
Betty Mahumani, who started working for the cooperative as a volunteer, says when in business, it is important to be patient because rewards do not come overnight.
In future, the business plans to supply bricks to other parts of the country and be the leading brick and concrete producer.
For more information on Leda phone 015 287 3000, email info@libsa.co.za to locate their 20 offices around Limpopo.