Sport, arts and culture
Long Walk to Freedom, one of the many films financed by the film incentive scheme of the Department of Trade and Industry (dti), will hit the big screen in November.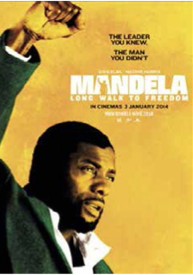 It received rave reviews and standing ovations at the Toronto International Film Festival. Finally Long Walk to Freedom, the film about the life of former President, Nelson Mandela will open in South Africa.
Long Walk to Freedom was made possible by the dti film incentive and directed by renowned South African filmmaker Anant Singh. It features British actor Idris Elba as Mandela and Naomi Harris as Winnie Madikizela-Mandela. Terry Pheto co-stars in the film.Singh says the movie will be unique because it was approved by Mandela himself and the Nelson Mandela Foundation.
The movie is based on Mandela's autobiography and traces his life journey from his childhood in a rural village in the Eastern Cape through to his inauguration as the first democratically elected president of the country. It is one of the many films funded through the dti film incentive which was established by the department to support the local film industry and contribute towards job creation.
The scheme also offers foreign film television production an incentive which is aimed at attracting large budget film and television productions that will contribute towards South Africa's economic development and international profile and increase foreign direct investment
Between February 2008 and July 2013, the incentive approved funding for 331 productions to the tune of R9.1 million. Of the 331 productions, 203 were South African, 71 were co- productions and 56 were foreign productions. Between 2004 and 2008, the film programme funded 49 productions, including 16 produced by South Africans, seven co-productions and 26 foreign productions.
Long Walk to Freedom will be released in South Africa on November 28. Producer Anant Singh said he was happy that he was hand-picked by Mandela himself to direct and produce the movie.
"I am delighted to be chosen by Mr Mandela to be the custodian of the film rights of his autobiography which I acquired over 16 years ago. It has been a long journey getting the film made and it has been very fulfilling for me.
"I have always been passionate about Mr Mandela's life story and I am delighted to have completed the film. We now look forward to presenting the fi to audiences around the world."