Plans are on track
for new universities in Mpumalanga and the Northern Cape to open in time for the 2014 academic year.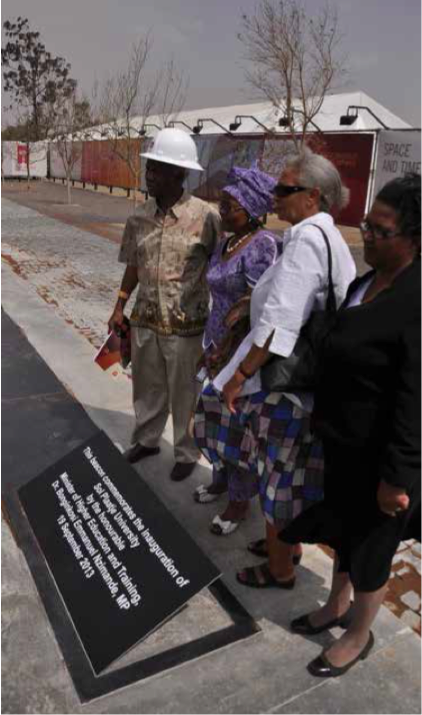 The University of Mpumalanga in Nelspruit and the Sol Plaatje University he University of Mpumalanga in Nelspruit and in Kimberley are preparing to admit their first students in time for 2014.
The new campuses will provide additional capacity to the higher education system and will also see the creation of new specialised academic departments.
"We are establishing these institutions because we want every province in the country to provide institutions of higher learning", said President Jacob Zuma at a media briefing recently. "In the last decade we have witnessed growth of over 50 percent in the number of enrolments. Numbers moved from 603 000 students enrolled in 2001 to 935 000 in 2012."
He added that the new universities would help government to reach its National Development Plan goal of increasing higher education enrolments from 17.9 per cent in 2012 to 25 per cent by 2030.
As part of the initial intake in 2014, the Sol Plaatje University will accept 150 students and the University of Mpumalanga will enroll 140. Over a 10-year period, the Department of Higher Education and Training (DHET) aims to reach a target of 15 000 full-time students at each university. The first newly-constructed academic buildings are expected to be ready by 2015.
In the meantime, lectures will be held at the National Institute for Higher Education in Kimberley, and programmes in Mpumalanga will be presented at the Siyabuswa Campus, the Mpumalanga Regional Training Hotel Academy, in Kanyamazane, and the Lowveld College of Architecture in Nelspruit. The University of Mpumalanga will start as a multi-campus institution with two campuses: one in Nelspruit and another in Siyabuswa. The Sol Plaatje University will be established initially on the main campus, but may expand further as a multi-campus university in future.
In January this year preliminary academic programmes were created for each university and established universities such as the University of Johannesburg came on board to support academic programme development and delivery. Management and academic staff were also appointed by the interim councils of each university recently.
The specialised courses that will be introduced at the University of Mpumalanga are agriculture and biodiversity studies such as food security, natural resource management, nature conservation, plant and animal sciences, forestry and wood sciences, technology and wildlife management. Curricula at the Sol Plaatje University will focus on heritage studies, museum management, archaeology, indigenous languages and restoration architecture.
Higher Education and Training Minister particularly those that do business in the two provinces, to come on board with additional funding. Total operational costs are estimated to run to R6.6-billion and R10.3 billion for the Sol Plaatje University and University of Mpumalanga respectively. Minister Nzimande also added that grants and subsidies would be the main source of funding for learners during the universities' ten-year development programme, but additional investment would also be required.
President Zuma has said "All successful countries prospered because they invested in education and skills development. Our young people are hungry for education and the development of these new institutions is designed to respond to this hunger".
South Africa is getting smarter by the day. The number of students enrolling for post-school education has nearly doubled from 345 566 in 2009 to 657 690 in 2012.
The amount of money government spent on FET bursaries in 2013 was more than five times that spent in 2009. It grew from R318 million in 2010 to R1.9 billion in 2013.
The number of students financed by NSFAS increased from 14 926 in 1994 to 199 479 in 2012
The amount of money spent by NSFAS to finance students increased from R2.2 billion in 2010 to R3.6 billion in 2013.
Source: Department of Higher Education and Training