International relations
South Africa and the United Kingdom look set to strengthen ties in business, science and tourism following the 10th South Africa-UK Bilateral Forum in Cape Town recently.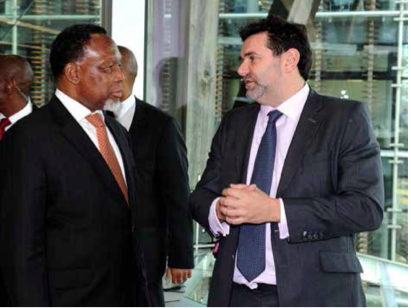 South Africa and the United Kingdom (UK) have launched a business council to promote trade and investment between the two countries.
This announcement was made following the 10th South Africa-UK Bilateral Forum in Cape Town recently. International Relations and Cooperation Minister Maite Nkoana-Mashabane said the two countries had made considerable progress in strengthening their economic ties.
"The UK is South Africa's largest source of foreign direct investment and our seventh largest export market." Between 2003 and 2012 British companies invested close to R90 billion in South Africa creating 30 000 jobs.
The UK Foreign Secretary William Hague was accompanied by a high-level delegation including the British ministers for Africa, for universities and science, and for energy and climate change.
Minister Nkoana-Mashabane said the forum had discussed the two countries' development cooperation programme. There are approximately 600 British companies operating in South Africa, including Barclays, British Airways and Vodafone. South Africa has over 180 companies operating in the UK.
Minister of Science and Technology, Derek Hanekom, and British Science and Universities Minister, David Willetts, also signed an agreement to promote greater collaboration between scientists from the two countries. Under the agreement, each country will contribute R1.5 million for seminars and conferences that bring together groups of scientists from South Africa and the UK. The scheme will run from October 2013 to March 2015 and be administered by the National Research Foundation and Britain's Royal Society.
South Africa used the occasion to push Britain to lift visa requirements on South Africans visiting the UK. Since 2009, the UK has required people from South Africa, Swaziland and Lesotho to apply for visas, saying it was easy for foreigners to fraudulently acquire passports from these countries.
However, the UK seems to be taking note of the progress South Africa has made in improving its passport security features and clamping down on corrupt officials in the Department of Home Affairs.
"We have noted the increasing flows and movement of people between our countries as a significant trend in our relations," Minister Nkoana-Mashabane said. "The UK is South Africa's number one source of long-haul tourism in the world. In 2012, more than 440 000 tourists from the UK visited South Africa, representing a 9.9 per cent growth compared to the previous year.
"I have informed Foreign Secretary Hague that many more South Africans would like to visit the UK. There is therefore an urgent need to address the challenge posed by the current visa regime."