The South African Police Service (SAPS) has stepped up efforts to clamp down on crime.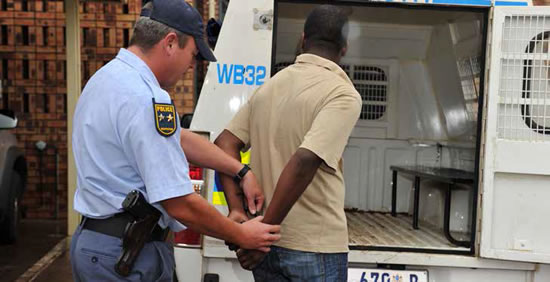 In recent months, government has in- creased the number of detectives, established units to deal with sexual offences, partnered with the private sector and communities, improved the training of police and refined its recruitment drive. These measures are designed to make South Africa a safer place. Minister of Police Nathi Mthethwa says contrary to public perceptions that crime is rampant, the level of crime has been declining. More people are beginning to feel safer. He adds that according to the Victims of Crime Survey (VOCS), the public is happy with government's efforts to deal with crime.
"According to the Victims of Crime Survey (VOCS) 2012 there is an increase of eight per cent in the public appreciation of how government is doing in reducing crime levels compared to five years ago (32 per cent in November 2007 to 40 per cent in November 2012)."
The survey also found that close to 60 per cent of households were satisfied with the manner in which the police and courts were doing their work.
Increasing the number of detectives
When he delivered his departmental budget vote speech last year, Minister Mthethwa declared 2012 the Year of the Detective. The department established 338 Detective Service Centres (DTS) to improve reaction time, improve on the apprehension of suspects and fast-track the screening of dockets.
In its first year of operation the DTS secured a high number of life sentences between 2012 and 2013. "Our detectives secured 826 life sentences during the 2012/13 financial year. Of those, 264 were for murder, 499 for rape and 63 for robbery aggravated."He says 142 Detective Court Case Officers have been placed at selected courts across the country to improve the quality of work to and from court , secure the availability of dockets and liaise with detective commanders and prosecutors to deal with the challenges that might arise.
Partnering to put criminals on the run
To increase the success rate of dealing with crime, the police have established partnerships with private companies and community policing forums. According to the minister, it takes an integrated effort to deal with crime successfully.
The South African Banking Risk Information Centre (Sabric), Crime Line, Tracker and Business Against Crime South Africa (BAC- SA) are some of the organisations working with the police to fight crime.
When Tracker and SAPS became partners in 1996, rampant vehicle theft and hijacking in South Africa were making headlines around the world. According to the minister the status has changed.
"The picture today,[is that] while vehicle crime remains a serious concern for all South Africans it has come down significantly in recent years thanks, in no small part, to this SAPS-Tracker  partnership."
Over the past 16 years, Tracker and the SAPS have recovered close to 60 000 stolen and hijacked vehicles.
Sabric has been an important stakeholder working with the police to deal with crime affecting the banking sector.
"Through their industry expertise, they have been able to deepen and share their skills and expertise within the banking sec- tor by setting up initiatives to combat ATM crime, cheque fraud, crime in business and cyber crime".
Another important partner in fighting crime is Crime Line. According to the minister, Crime Line's partnership with the police has seen many arrests and the closure of drug hubs. Communities have also been mobilised to come forward with information.
Transforming from an apartheid force to a police service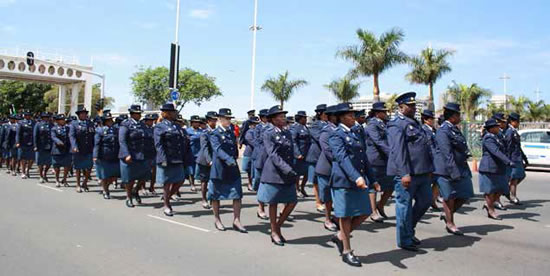 Back in 1994, as part of the new democratic dispensation, government took steps to transform the South African Police (SAP) into the new South African Police Service (SAPS). The first target was to establish capacity to deal with public order policing, namely Public Order Police (POP).
In 1995, a Technical Team drew up recommendations and guidelines for transforming the police. The recommendations were approved in 1995 and highlighted guide- lines and indicated focus areas to follow to achieve this goal.
"The first step was to amalgamate the 71 existing riot control units in the SAP and police agencies in the independent homelands into the SAPS," says Minister Mthetwa.
"Only suitable members from all these riot control units were re-recruited, re-selected and retrained. Soft skills such as negotiation, conflict management and diversity management were also taught."
In August 2011, the department amended the Public Order Police policy due to the increase in incidents involving the use of force in public order policing, the related injuries to participants and the negative publicity related to various incidents. "We felt it necessary to address relevant focus areas of public order policing to ensure a more effective and professional POP service," explains the minister.
The minister adds that all new entry-level police members will undergo basic training in crowd management as part of their curriculum.
"This is primarily to establish an under- standing of crowd management in all SAPS members to facilitate joint operations with other SAPS components and POP members. "During the last intake, which completed training in March 2013, the new first responder training course was conducted to empower new police members to assess potential crowd management situations and understand the process of role function activation."
Clamping down on sexual offences
In an effort to deal with the scourge of sexual offences, the minister instructed police management to re-introduce the Family Violence Child Protection and Sexual Offences (FCS) units. There are 176 established FCS units attached to all police clusters within the South African Police Service.
The reintroduction of the FCS units has yielded positive results and the number of life sentences secured by the police has in- creased progressively in the past three years. "There were 1 194 life sentences secured during the past three years, that is, 306 in 2010/11, 389 in 2011/12 and 499 in 2012/13," says the Minister.
In support of the investigation of sexual crimes, 2 139 forensic social workers were appointed. "These include 79 forensic social workers appointed to assist in cases of child sexual abuse by conducting assessments, compiling court reports and providing ex- pert testimony in court to strengthen and increase conviction rates.
"Since the re-establishment of the FCS units we have secured imprisonments totalling 36 225 years," he adds.
Taking on gangs and drugs
In recent months, there has been a resurgence of drug and gang violence in the Western Cape. To tackle it, Minister Mthetwa has called for a joint effort by all sectors of society.
"Crime prevention requires that interdepartmental cooperation extend beyond the criminal justice system to include, when necessary, departments responsible for local government, education, and social services," says the Minister.
During the anti-drug campaign in Mitchells Plain, the department committed itself to a multifaceted approach in tackling this scourge.
The steps police have taken have put criminals on the run, increased partnerships against crime and made communities safer than before.