Sport, arts and culture
SA tennis star Lucas Sithole defies his disability to become US Open champion.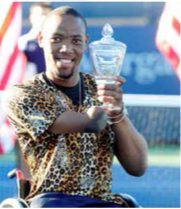 Sithole, South Africa's top quadriplegic wheelchair tennis player, made history after becoming the fi man from Africa to win a singles match at the 2013 US Open Wheelchair Tennis Competition held in New York, recently.
The 26-year-old defeated America's David Wagner 3-6, 6-4, 6-4 in the final and is now ranked second in the world. Sithole has been on a winning streak since 2007 when he won the Melbourne Open in Australia.
He has never let his disability get the better of him. Just 12 years old, Sithole fell under a train, breaking his legs and right arm. It changed his world forever. With courage and support from his family, he overcame his tragedy to become a world champion.
Today he is a quadriplegic wheelchair tennis champion who enjoys writing music and singing, while studying for a diploma in sports management at the University of Johannesburg.
His dream is to open his own sports centre for people with disabilities. "I don't want anyone to feel sorry for me," he says. "I'm living my life to the fullest." President Jacob Zuma also congratulated the star. "We congratulate Lucas Sithole for this important achievement. It was no small feat. He has made both the government and the people of South Africa immensely proud."