Three years ago, Hlengiwe Ngidi of Lamontville in Durban decided that she would not let her lack of formal education keep her poor and unemployed.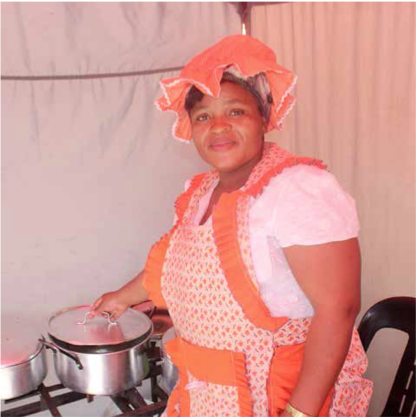 Armed with determination and a little start-up money, she took to the streets of Durban to cook and sell food.
The bubbly Ngidi cooks breakfast and lunch for taxi drivers of Umlazi Township. Her tent in downtown Durban shelters her customized kitchen that has a gas stove and a table and chairs. The delicious smell of beef stew, which she serves with Phuthu, lures customers to her.
"I realised that sitting at home and waiting for a job will not help me. I started with selling chicken feet on the side of the road. This came with challenges because at the time I did not have a street vending permit to sell on the streets."
Ngidi says she realised that her business was progressing fast and when she saw a gap in the market she took it: no one was cooking breakfast and lunch for taxi drivers using the Umlazi rank in the central business district.
"I decided to take a loan from the local society in my area. I remember I asked for a R3 500 loan to start the business. I then went to the eThekwini Municipality Offices to apply for a street vending permit.
"It took a month for the municipality to get back to me and I was already on my feet selling my meals."
Ngidi employs two people who help her prepare and deliver meals.
A typical day starts at 7am when she collects her tent and stove from storerooms around the city and ends after lunchtime when all the food has been sold.
"I start by preparing breakfast which includes beef liver, eggs and four slices of bread. For lunch I alternate between beef and chicken stew with rice or Phuthu served with two side salads. Breakfast costs R14, while lunch is R16 for small and R22 for large.
"On a typical day I make about R300 – money that sustains my family of six.
"With this money I have been able to build my mother a house and I also pay school fees for my daughter who is in Grade 10."
Ngidi says having a street-vending permit makes her life easy because when the Metro Police raid street vendors she does not have to run or hide from them.
She encourages others to follow her example and tap into their talents to make a living.
The eThekwini Municipality says it has over 40 000 street vendors across the municipality and that operating in the city without a permit is illegal.
It costs between R39 and R110 a month for a street-vending permit.
Once all the documents have been submitted, processing the street-trading permit should be finalized within 30 working days.
The site for which you have applied will be inspected to ensure that you comply with all relevant requisites such as road traffic requirements and health regulations.
Delays can sometimes be caused by late responses from some relevant departments that have to comment on the application or your compliance.
To apply for a permit, you must:
State what type of goods you will sell.
Indicate what you will use to conduct the business e.g. a cart, tables or marquee.
Provide your address and telephone number.
Provide the municipality with a letter from the owner of the building that you wish to trade next to.
Include a copy of your identity document.
You must also provide a hand-drawn sketch of the area you are applying for and also a site map. You can obtain a site map from various municipal development and planning offices.