Written by Noluthando Mkhize
A group of women from Manyatseng outside Ladybrand have set up a cooperative that produces vegetables using hydroponic farming methods.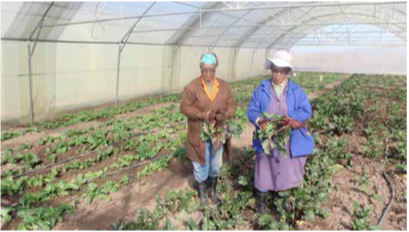 When the late former Premier of the Free State Province Winkie Direko visited the area of Manyatseng in Ladybrand - 137 kilometres from Bloemfontein - to encourage women to get involved in farming, then domestic worker Maria Nkhoke was inspired to start her own farm.
In 2006, she and four other women formed what is now known as the Mantsopa Mother Agriculture Cooperative.
"Once we had registered the business, the real work had to start. We approached the Mantsopa Local Municipality to give us land that we could work from and to educate us on how we could get funding to grow the business. The municipality gave us 60 hectares of land and currently we are only using four hectares," says Nkhoke, chairperson of the cooperative.
She explains that the cooperative only uses four hectares because the business has not reached its full potential and it is looking at other alternatives to grow the business.
The Mantsopa Mother Agriculture farms vegetables such as spinach, tomatoes, carrots, green peppers, beans and potatoes. They supply to local retailers, including Spar, Cambridge, Fruit and Vegetables - and to the community at large. The municipality gave the cooperative land and advised them to apply to the National
Development Agency (NDA) for funding. "We received funding from the NDA which we used to buy four tunnels for our hydroponic farming method. The provincial department of agriculture also gave us R75 000."
An advantage of hydroponic farming is that it has more stable and higher yields than the traditional way of farming.
Nkhoke says no soil is needed for hydroponics. Because the water stays in the system and can be reused, there are lower water requirements and pests and diseases are easier to get rid of than in soil because of the container's mobility.
Dr Anthony Bouwer, NDA Free State Provincial Manager, says the NDA started working with the women early on.
"The initial funding from the NDA was R757 900 in 2006 while they still operated from a school, before registering as a cooperative. The NDA requested them to involve younger people for sustainability as well as for additional help. While still operating from the school, they used wheelbarrows to transport their goods."
Bouwer says that the funding from the NDA was used to buy tunnels, a cool room and to provide capacity-building and stipends for members.
"We decided to fund Mantsopa because of its focus on job creation and food security. I am proud to say that Mantsopa is one of our most successful projects in the province. The commitment shown by the members during our funding period was outstanding. Even now, the mothers are still working hard to better their lives and those of their community."
Currently, the cooperative employs five permanent and seven casual workers. Agriculture students from Glen Agricultural College in Bloemfontein do their practical training at the farm.
The cooperative also has a mentor who works as a general manager, Thabiso Mahono, who is a registered geologist from the University of Pretoria.
Nkhoke says they work very well with Mahono who has an educational background in farming and running a business.
Everything around the farm is dusty and dry, except for the green crops that peep out of the warm tunnels where they are farmed.
Nkhoke says starting the business was not easy and required patience and passion. The cooperative has big plans for the farm. "We would like to export our products to other countries and be part of the Good Agricultural Practices organisation. We also want to have a nursery to produce our own seeds," says Mohono.
He says the business is doing very well and expresses confidence that in time, they will be able to use all 60 hectares of the farm.
It's up to each individual to work hard to earn a living and leave a legacy for the young people, says Nkhoke.