Hotline
Showrooms across the country are preparing to sell the first electric-powered vehicles.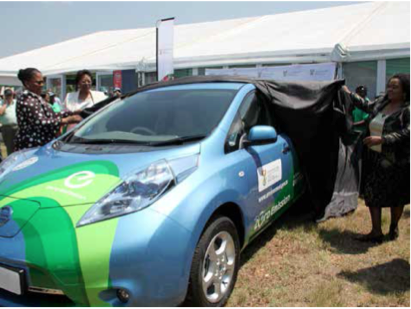 Nissan will be the first company to introduce electric vehicles, which promise to reduce carbon emissions.
According to Veralda Schmidt, media relations manager of Nissan South Africa, "around mid-October the Nissan Electric Car will be on the market". Nissan will announce at the Johannesburg Motor Show how much the car will cost. "The vehicle will be available at our dealerships in Gauteng and later rolled out to other provinces."
The vehicle, which only needs electricity to function, was launched in February by Minister of Environmental Affairs Edna Molewa in conjunction with Nissan South Africa.
"The fundamental motivation for being part of the project was the need for South Africa to turn into a job creating, sustainable, low carbon and green economy as clearly outlined in South Africa's National Development Plan," said the Minister at the time.Minister Molewa said the automotive sector was one of the major sources of greenhouse gas emissions which resulted primarily from the burning of fossil fuels, including petrol and diesel. "The transportation sector accounts for 30 per cent of carbon emissions in industrialised economies and about 20 per cent worldwide. Globally, the sector is the third largest contributor to air pollution."
What makes the electric car so environmentally friendly is that it is powered by lithiumion batteries, not an engine.
"Electric cars do not have a fuel tank either as they do not require fuel. The lithium-ion batteries are charged using a dedicated wall box charger at home or at a Public Charger available at Nissan dealers," said Letlhogonolo Matlou, acting product manager at Nissan South Africa. Schmidt confirmed this, saying that "charging stations will be placed at all Nissan dealerships and consumers could also request a home charger". He added that after being charged, the vehicle can travel for around 195 km, which is sufficient for most daily trips.
The car does not have an exhaust system, which means it produces no carbon emissions, said Matlou.
Four Nissan LEAF test cars were placed at the disposal of the Department of Environmental Affairs for use and testing in the initial phase of the project.
The electrical car is fully operational in 23 countries, with South Africa now on the list. The shift to electric vehicles will help South Africa to reduce its carbon emissions, said Minister Molewa. "The green transition in the automotive sector presents an enormous opportunity because, currently, South Africa is the 18th largest manufacturer of vehicles in the world and represents 80 per cent of Africa's vehicle output, but only 0,6 per cent of the world market. Its significance to the domestic economy is shown by the contribution in 2010 of 6,2 per cent to the Gross Domestic Product and it employs more than 230 000 people in manufacturing, distribution as well as the retail industry."