Sport, arts and culture
There was song, dance and ululating at the Boksburg Stadium when learners from seven provinces gathered recently to display their talent in football, netball, chess and athletics.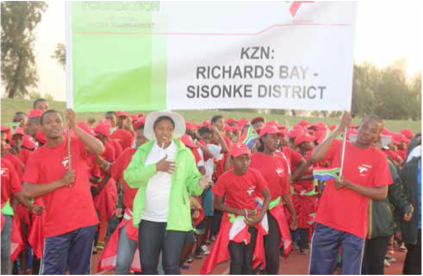 They came from dusty rural and farm schools to participate in the annual Transnet Foundation Rural and Farm Schools Sport Programme. For some it was their first ever trip to the big city to take part in the finals of the Rural and Farm Schools Sport Programme.
The tournament attracted 1 638 young learners from North West, Limpopo, Mpumalanga, KwaZulu-Natal, Eastern Cape, Free State and the Northern Cape.
Preliminary rounds for the tournament took place months ago when 22 000 learners from 75 schools participated in an inter-house competition. Five thousand learners were selected to go through to the four regional tournaments where the final number of contestants was narrowed down to 1 638 people.
The Transnet Foundation gives opportunities to learners who do not have access to sport facilities, especially those from far-flung rural and farm schools. According to Rural and Farm Schools Sport Programme Manager Michael Moloto, the foundation saw a need to invest in rural talent. Transnet hosts the programme jointly with the Department of Basic Education.
Transnet spends between R140 million and R160 million a year through the foundation and R20 million through other divisions.
Representing Dihlabakela High School from Greater Sekhukhune Region in Limpopo was Mphogo Keletso, a 17-year-old who has participated in the programme since 2010. She says the programme gave her a chance to interact with other learners and learn from them.
"It has been a good experience and I have learned from the other players. The game has also taught me that in sports, team work is the best way to accomplish your goals."
Maefa Pabalelo, Keletso's counterpart from Tlou-Nare High School, says he hopes, through the programme, to tap into his football talent and pursue a football career in the near future. He has participated in the tournament since 2009.
Transnet Foundation Rural and Farm Schools Sport Programme
The tournament started in 2002.
22 000 learners from 75 schools participate in the inter-house competitions.
5 000 learners participate in the four regional tournaments.
1 000 learners participate in the national tournament.
80 Local Organising Committee members have been trained in event management.
80 team managers have been trained in team management activities.
The tournament received national recognition in the form of the Mail & Guardian Investing in the Future award in 2008.
Transnet Foundation Rural and Farm Schools Sport Programme achievements 2003
2003: One of the programme coaches is appointed coach of the national volleyball team travelling to Europe.
2004: A learner from the Eastern Cape is selected for the SuperSport PSL soccer team.
2007 – 2008: Five girls from different regions who play netball through the programme are offered bursaries to study at Rosina Sedibane High School.
2008: A netball player from QwaQwa in the Free State receives a netball scholarship from Tshwane University of Technology.
2010: Three learners from Richards Bay in KwaZulu-Natal are selected for the Orlando Pirates Development Programme and about 90 learners participate in the South African Local Government Association (SALGA) games.