Sport
Following decades of adversity and years of uncertainty, struggle and triumph, Alexandra, the oldest township in South Africa, shines as it celebrates its centenary this year. It has been a turbulent ten decades for the township that has survived apartheid. This significant suburb of Johannesburg has been home to many, both notable leaders and citizens, and has withstood the worst of many struggles. At the launch of Celebrating 100 Years of Alexandra, government has reflected on the rich history of the township to mark this historic milestone.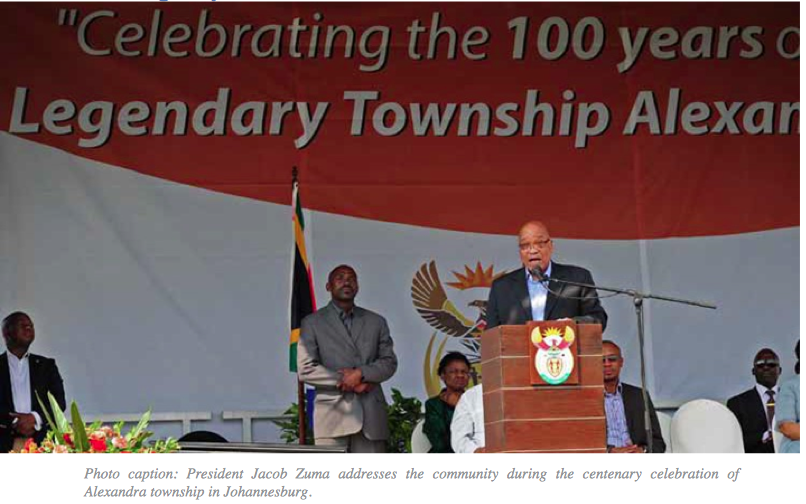 Alexandra, or Alex, has become a densely populated settlement inhabited by a cosmopolitan mix of people from around the country. It was largely ignored for many decades before the onset of democracy. Many people learned to survive by their wits. This spirit of enterprise runs through the community of Alex, with spaza shops, street vendors and informal businesses flourishing. In addition, a culture inextricably linked to its rich heritage has also emerged, setting the township apart as one of Jozi's cultural hotspots.
Alex counts among its prominent former residents, former President Nelson Mandela, former cabinet ministers Alfred Nzo and Joe Modise writer Mongane Serote, musician Hugh Masekela, soccer boss Irvin Khoza, church minister Reverend Sam Buti, former President of Mozambique, Samora Machel, and former First Lady Zanele Mbeki.
Sandwiched between Johannesburg's north-eastern suburbs Sandton and Bramley and the N3 highway, which outlines the eastern periphery of the metro, Alexandra is a sprawling ghetto township some 12 km northeast of the Johannesburg city centre.
It is characterised by high levels of unemployment, crumbling homes and rundown infrastructure, although there have been some notable developments recently.
Alex is home to a diversity of people speaking many languages, practising their traditions and cultural heritage. It still attracts new arrivals to the city even today, with many foreigners and people from other provinces settling in the township. One of the major problems facing the suburb's youth is the high rate of school dropouts because of pregnancy, poor academic performance and hopelessness. Crime is on the rise, driven by poverty. Many young people spend their time hanging out on street corners, loitering with little intent. Many find solace in drugs and alcohol – the most prevalent social ills affecting the community.
Alex was initially proclaimed a township for white workers who were removed from Johannesburg's city centre in 1905. In 1912, the plots in Alexandra were sold to African and coloured people with freehold rights, making it a native township. "We must use this milestone to dedicate ourselves more than ever before to build a united and prosperous South Africa built on the foundation of Ubuntu, dignity and respect. Whatever challenges we face we will overcome working together," said President Jacob Zuma, at the centenary celebrations at Alexandra Stadium. South Africans need to stand up for their rights without losing their dignity, he said. "South Africans are not hooligans; we are a nation of proud, respectful people who stand up for our rights and do so without losing our dignity and Ubuntu. We must promote this national pride so that the world will not develop the wrong impression of South Africa's people," the President said, adding that societies need to take stock and reflect on themselves.
In keeping with the tradition of the suburb, a book containing unique, researched and documented stories of Alexandra has been published – Alexandra: A History. The book has been researched and written over the past six years and is a product of the Social History Project, a component of the Alexandra Tourism Development Project (ATDP).
But Alexandra is much more than just the book, there are many more exciting things in Alex.
Alexandra Tourism Development Project
The creation of the ATDP dates back to 2001, when the R1,2 billion project was launched to renew the vibrant but ramshackle town- ship. The community-based initiative aimed to realise a vision for heritage tourism as a vibrant sustainable industry that builds on the rich resources of arts, culture and heritage in the suburb, while improving the quality of life of the residents.
Alexandra Heritage Centre
The project also included the development of the Alexandra Heritage Centre, which sits across the site known as Mandela's Yard, a shack, in which the former president Nelson Mandela himself occupied in the 1940's. The project builds a sense of community and provides poverty relief by training inhabitants in tourism and heritage, nurturing small enterprises, and by displaying the arts, culture and heritage of Alexandra. The centre is a place where residents and visitors can learn more about the history and heritage of the township through photographs, artworks, quotations and documents.
Steeped in its rich culture and history, Alexandra has come a long way since the dawn of democracy, but still has a long way to go.
Heritage sites
Over 100 heritage sites have been identified in Alexandra. Some include the Alexandra Beer Hall, Twelve Apostles Church of Africa, prominent family homes, the Alexandra Cemetery, hostels, Freedom Square, the Anglican Mission School, and the Msomi Gang headquarters.