Written by *Molatelo Mokumo
Know your Ministers
Thanks to the Reading for Redemption Campaign, offenders at some prisons are reading books and dis- covering the pleasures of reading and learning.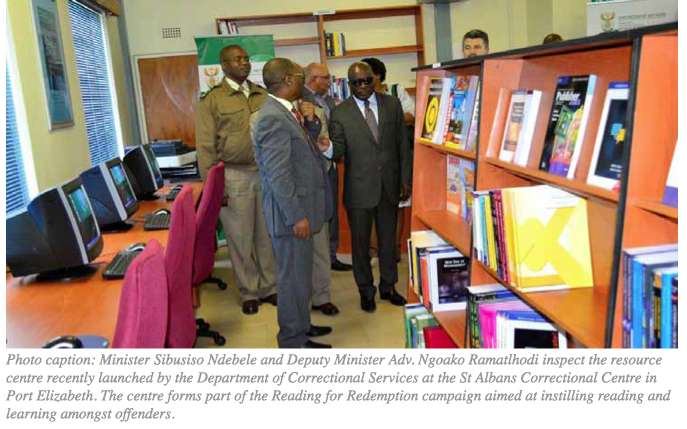 The aim of the campaign is to build a new culture of reading and learning among offenders at all correctional centres. The campaign was launched by Correctional Services Minister Sibusiso Ndebele at St Albans Correctional Centre in Port Elizabeth in the Eastern Cape recently. At the event, the minister also opened the department's first of many integrated resource centres (IRCs). Other resource centres will soon open at Helderstroom and Goodwood in the Western Cape, Durban Westville in KwaZulu-Natal, Upington in the Northern Cape, Baviaanspoort in Gauteng and Rooigrond in North West.
Minister Ndebele first introduced the concept of Reading for Redemption in July when he appealed to community members to donate books. He said reading would help bridge the information gap and inspire a new culture of reading and learning among offi- cials and offenders. The collected books were intended for use in resource centres, which incorporate libraries and computer laboratories to assist studying officials and offenders. The purpose of the resource centres is to serve as knowledge and information hubs, and provide an environment that promotes human capital investment and supports the department's development and rehabilitation strategic objectives.
Collecting books
So far, the campaign has collected books worth more than R1,5 million, while the contribution from Van Schaik in Port Elizabeth alone accounts for over R1,1 million. Other donors include the Department of Basic Education, the Nelson Mandela Metro, the National Librarian, Rotary and Concerned South African Citizens.
The Reading for Redemption and the Integrated Resource Centres projects are subsidiaries of the department's Operation Funda launched in 2010 at the St Albans Correctional Centre by then Minister Nosiviwe Mapisa Nqakula. Following the launch, the department registered eight full-time schools with the respective Provincial Departments of Education in four regions. They are Durban Youth Centre in KwaZulu-Natal, Barberton Youth and Maximum Centres in Limpopo, Mpumalanga and North West, Emthonjeni, Johannesburg Medium and Leeuwkop Youth Centres in Gauteng and St Albans and Cradock in the Eastern Cape. Four more schools, Tswelopele Correctional Centre in Free State and Northern Cape, Ekuseni Youth in KZN, Rustenburg Youth in North West, and Brandvlei Youth in the Western Cape.
Minister Ndebele, a former librarian, described the Reading for Redemption Campaign as one of the many departmental vehicles for rehabilitation. He said the new baton of education in the department rests reading, teaching offenders knowledge and skills and promoting understanding of, and support for, the transformation agenda of the Correctional Services Department.
"We want to encourage inmates to read, read, read and study, study, study. The emphasis of Correctional Services is on correction, and all of us can be corrected. We must create an environment in correctional facilities that contributes to offenders becoming better than what they were, thereby ensuring a better South Africa," the minister said.
He said reading will benefit offenders during their imprisonment and when they are released. "We want to see offenders proudly contributing to their self-care," he remarked. Offender Bathandwa Mase encouraged fellow offenders to empower themselves by studying. "Sometimes we find privileges in correctional centres that were not avail- able to us in our communities. We must use these opportunities presented through the Redemption Campaign and empower ourselves."
* Department of Correctional Services
For more information, contact Correctional Services at tel. 012 307 2000/ Anti Corruption hotline on: 0800 701 701