Written by Samona Murugan
The National Youth Development Agency (NYDA) is setting up structures to promote entrepreneurship in townships across the country.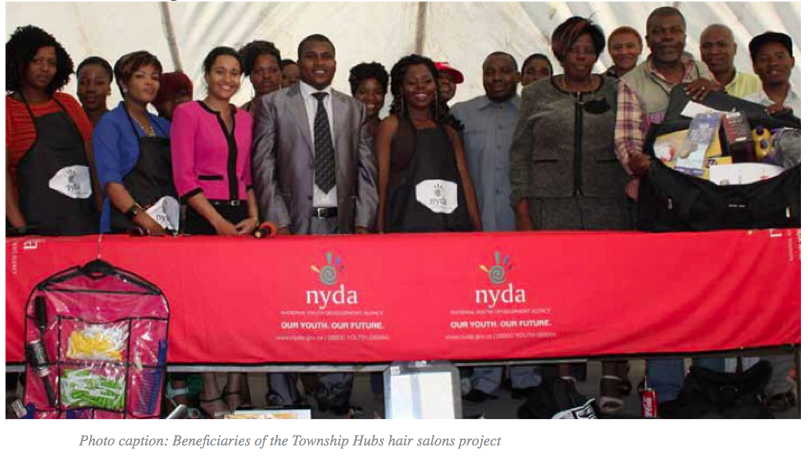 Township enterprise hubs aim to identify and assist emerging entrepreneurs in identified sectors.
The R58 million project led by the Department of Economic Development was launched with the NU-ME Organisation and Motion Hair Academy in Sebokeng recently. The hub initiative is one of the interventions that specifically focus on establishing automotive, industrial, and services hubs within townships in Gauteng.
Many young people flocked to the Sebokeng launch, which could make a difference to their lives. The pilot programme, launched by Gauteng MEC for Economic Development Nkosiphendule Kolisile saw 20 young people interested in the hair industry undergo training to start and grow their businesses.
The initiative aims to promote entrepreneurship by enabling young people to become self- employed and to employ others. It also aims to facilitate youth participation in the mainstream economy in townships and regenerate town- ships by promoting formal economic activity. The launch also created a platform for possible partnerships with stakeholders in the business, public and education sectors towards youth business development.
According to Gauteng Premier Nomvula Mokonyane, "The Gauteng government decided to develop and implement the youth employment strategy to respond to the plight of young people in township and semi-rural areas by developing youth-owned economic hubs."
Mokonyane said township enterprise hubs are based on the enterprise development finance, equity funding and off take agreements. "We are convinced that such a programme will go a long way to alleviate youth unemployment," she said.
She urged residents not to hold back the project. "This is a time-bound project with a fixed budget. It cannot be for people who will be here forever."
The calabash-shaped hubs will be developed in Katlehong, Tembisa, Sharpeville, Sebokeng, Kagiso and Winterveld and will come in three forms: automotive, enterprise and industrial.
Tepsy Ntseoane of South African Women in Cooperatives (SAWICO) said government was on the right track to create a sustainable environment. "We have created this organisation so that we can address mistakes made by businesses, entrepreneurs and co-operatives before. "Before you become a member, we train you so you can understand the co-operatives concept and what is expected of you," Ntseoane said.
"We are pleased to bring this opportunity to our young people in the townships. This partnership shows that we are serious about getting young people to participate in the economy of the province and the country. We will pass on technical and business skills to enable them to maintain and grow their businesses," the chair of the NYDA Gauteng Provincial Advisory Board, Simon Molefe, said.
The beneficiaries will benefit from services to the value of over R500 000 ranging from basic salon management, product selection, styling techniques, marketing, mentorship and a loan amount to start or grow their business.
"We are starting this project with 20 young people but we would like to grow it to more than 100 by the end of the year. We are currently canvassing for more partners to help us reach more young people," Molefe added.
Young people interested in the township enterprise hubs programme can contact the NYDA on 0800 52 52 52.