Written by *Vincent Malapane
A new farming system that encourages conservation agriculture is showing signs of viability.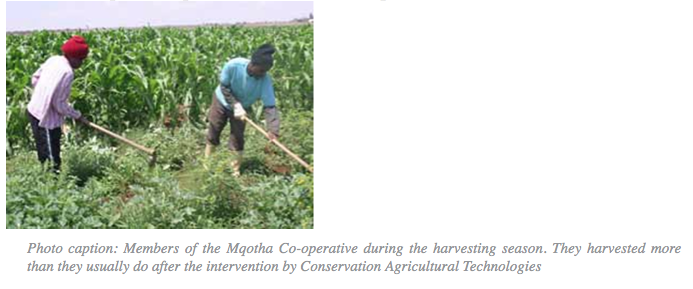 The Conservation Agricultural Technologies (CAT) study has yielded positive results in the Msinga and Mhlontlo local municipalities in KwaZulu-Natal and the Eastern Cape respectively. CAT is a farming system the Department of Rural Development and Land Reform (DRDLR) wants to adopt in rural communities across the country.
Continuous minimum mechanical soil disturbances, permanent organic soil cover and diversification of crop species grown in sequence are what make the system viable.
Permanent organic soil cover protects the soil against erosion, reduces water losses caused by evaporation and enhances soil fertility. Conversely, crop rotation and intercropping suppresses weed, disease and pest infestations, improves soil fertility and addresses food and fodder diversity.
These CAT principles, when adopted and implemented, will promote the cultivation of land in a way that protects and improves the soil, increases crop production and generates income to farmers, particularly those within rural communities.
"CAT is the approach to manage agro-ecosystems for improved and sustained productivity, increased profits and food security, while preserving and enhancing resources and the environment," Kgoroshi Mashabane, a natural science research specialist at DRDLR, said.
When the project started in December 2011, most members of co-operatives did not believe in the system and said it would not reach harvesting stage in time given the extremely hot weather conditions.
"The maize harvesting for CAT projects in ward 15 of Msinga was very successful, thanks to the department bringing this project to us (Macaneni Co-operative). We have harvested plus 120 of 80 kg maize bags on each hectare," Phillip Ngubane, Director for Macaneni Co-operative, said.
"The produce was used primarily for household consumption and was sold to the local market. We sell the produce ourselves as members of the cooperatives," Ngubane added, who is also chairperson for co-operatives in ward 15 of Msinga.
Beneficiaries of the CAT study in Msinga have harvested over 10 ha of land for maize and dry beans. According to Lloyd Maribe, the choice of maize and dry beans in the area was because of its ability to withstand any form of weather.
The uMqotha co-operative, which has planted dry beans on three hectares of land, is also happy and grateful to the DRDLR and its service provider, the Agricultural Research Council (ARC). "We have harvested 16 bags of soya beans, each weighing 50 kg, thanks to the good work and expertise of the department and the ARC. We hope the co-operative can produce more if they implement the irrigation system, as we mostly relied on rain water," Lungisani Dlamini, a representative of the cooperative, said.
The objective of uMqotha is to break into commercial farming. uMqotha believes the DRDLR is on the right path to help them realise their goal. A total of 800 kg of soya beans was cultivated and members of the cooperative will soon be meeting to sell the produce.
Vincent Malapane from the Department of Rural Development and Land Reform
For more information, call the Department of Rural Development and Land Reform at tel. 0800 0070 95