If you have not yet applied for tertiary education in 2013, you can still do so. The Department of Higher Education and Training (DHET) has launched a system aimed at giving late applicants information about space at institutions of higher learning.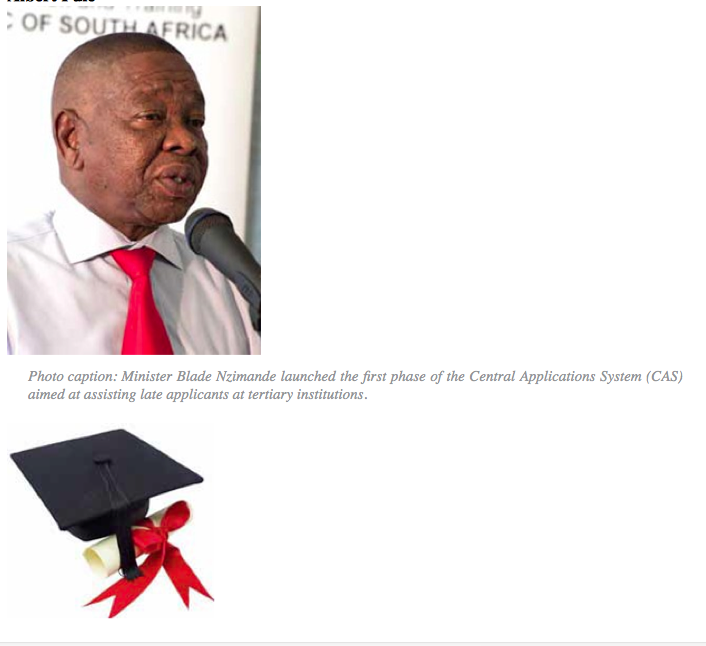 "To address the recurrent problem of prospective students who flock to institutions of higher learning only in January the DHET is setting up a Central Applications System (CAS) to manage all Post School Education and Training applications," Minister of Higher Education and Training Blade Nzimande said.
One of the reasons for developing the system was to avoid the rush of late applications and avoid a repeat of the stampede at the University of Johannesburg early this year.
For matriculants looking for admission into institutions of higher education and training in 2013, the department will only be able to provide phase 1 of the CAS, which will be referred to as the Clearing House. It will ensure that applications are managed better than in the past. The system will direct applicants to institutions that can still accommodate them for their chosen fields of study.
"The main purpose of the Clearing House will be to support and guide 2012 matriculants who wish to be admitted into institutions of higher education and training in 2013, but who have not yet been accepted anywhere," Minister Nzimande explained.
The Career Advice call centre managed by SAQA will support the implementation of the Clearing House.
For more info call the Department of Higher Education and Training contact call centre : 0800 87 22 22 sMs or send a please call me to 072 204 5056 Facebook:

www.facebook.com/careerhelp

or www.dhetfacebook.gov.za Twitter: www.twitter/nqfcareerhelp Mobile site: mobi.careerhelp.org.za Walk-in service: 1067 Arcadia street, Hatfield, Pretoria