More than 5 000 high school learners from Gauteng had a glimpse of what it is like to work in the maritime sector, thanks to a career expo by the South African Maritime Safety Authority (SAMSA).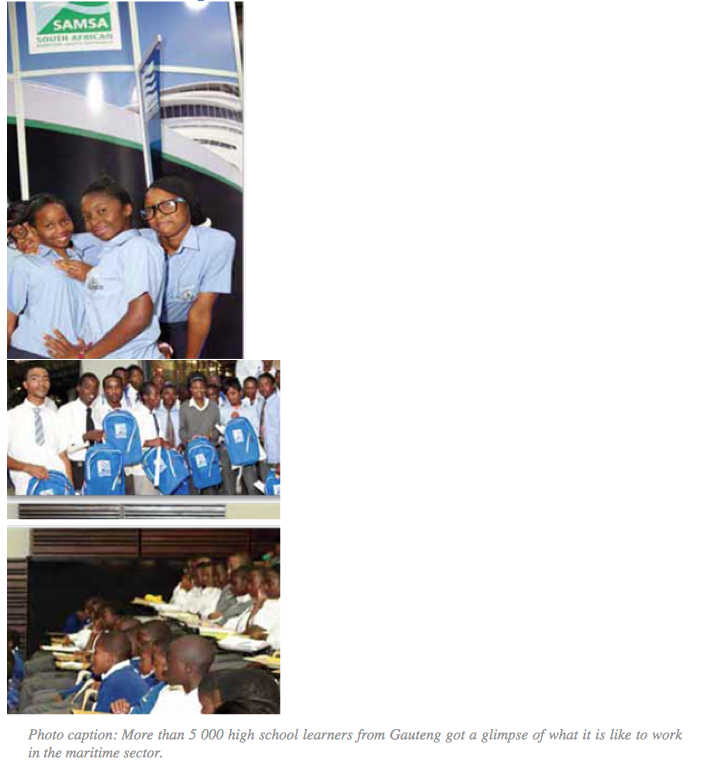 SAMSA's recent Career Focus programme, exposed learners to a variety of careers in the fields of shipping, marine resources, marine tourism and leisure, marine manufacturing and construction and commercial support fishing.
"I'm glad I was part of this programme. I learnt many things and am now considering a career in the maritime sector. I would like to become a maritime engineer. I learnt that I would have to work hard to realise my dream. From now on I will focus on my studies to ensure I get good matric results. I also learnt that I must stay out of trouble so that I don't get a criminal record," Lloyd Maapesa (17), a grade 10 pupil from Eqinisweni Secondary School, said.
Sindiswa Nhlumayo, executive head of the Centre for Excellence at SAMSA, said the week was a success. "The programme came at a time when these young learners needed this type of information most. The learners were fascinated and overwhelmed by the captains and young men and women in marine uniform.
Most of the learners, in particular those in Grades 11 and 12, took the information to heart. They asked many questions – an indication that some were considering a career in the maritime industry. SAMSA saw a need to focus on awareness of the maritime industry as a possible economic driver and a career of choice, and to address the misconception that the maritime industry is restricted to a certain segment of population."
The programme, endorsed by the Gauteng Department of Education and the Sci-Bono Discovery Centre, is SAMSA's response to the maritime skills development study commissioned in 2010 to address the unemployment and skills shortages in South Africa. The study called on training institutions, government and the private sector to work together to ensure that South Africans were armed with skills to participate in the maritime sector, and bridge the existing skills gap.
Nhlumayo said the programme, which was launched at a time when the organisation celebrates 14 years of existence, would be introduced to all nine provinces. She added that plans are also underway to host a career expo that will target learners, graduates and all the marine sector stakeholders.
"There is so much to be happy about, not only are we doing our bit to unlock career doors for our youth, today, we are celebrating the milestones this young organisation has achieved," she said.
For more information, contact SAMSA on 012 366 2600