Written by *Vuyo Sabani and Mikateko Mkhatshwa
Hendrik Janse van Rensburg (20) does not see the tool-making artisan apprenticeship as an end in itself.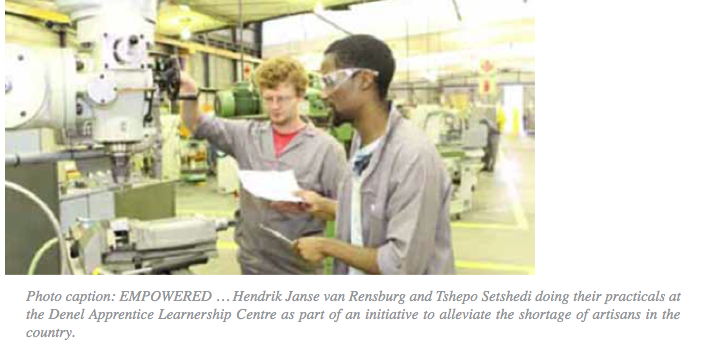 Rather, he sees it as a means to an end to fulfil his lifelong dream of becoming a professional mechanical engineer.
Van Rensburg said taking the apprentice route, instead of enrolling at university, gives students an edge over their peers. He attributed this to the first-hand experience students gain in their three months of, on-the-job training at an established company.
A fellow student, Tshepo Setshedi (27) of Benoni, Ekurhuleni, with whom Janse van Rensburg has been placed at the country's arms manufacturer, Denel, agrees.
Setshedi and Janse van Rensburg are two of the 250 tool-making artisan apprenticeship students placed in various Further Education and Training Colleges, in a bid to address the debilitating shortage of artisans and toolmakers in the country. The programme is a partnership between the Department of Trade and Industry (dti), Tool Making Association of South Africa (TA SA) and the Gauteng City-Region Academy (GCRA).
During her budget speech recently the, former MEC for Economic Development Qedani Mahlangu said: "International experience on skills development has been applied successfully in the toolmakers training programme in South Africa. The tooling industry is recognised as the centre of manufacturing activities in South Africa and Gauteng accounts for 60% of the tool-making business, which has an annual procurement of R12 billion."
Mahlangu said the country was "too reliant on other countries for tool supplies." We import tools from China and Germany, among other countries, to satisfy the country's needs. "This can be attributed to a lack of tool-making artisan skills supply in South Africa. To reverse this, we have partnered with the National Tooling As- sociation of South Africa (TASA), the Department of Trade and Industry (dti) and the Gauteng City-Region Academy to train 250 tool-making artisans who are scheduled to graduate at the end of 2014," Mahlangu said.
To Odirile Ramasodi of the Gauteng Enterprise Propeller (GEP) says: "This is a competency-based apprenticeship programme, which the average student should be able to complete in three to four years. At the end of the training the students will write a trade test after which they will be certified by Quality the Council for Trade and Occupation as artisans (toolmaker or metal machines)."
Ramasodi said the NTIP/TASAare internationally accredited by the USA National Institute for Metalworking Skips (NI MS), which credits the students in the completed NIMS module at international level. He added that the programme had been a success so far, as apprenticeship Level 2 students were placed at 75 companies for on-the-job training. In addition, the companies have indicated that they would like to employ the students full-time after they have completed their training.
Vuyo Sabani and Mikateko Mkhatshwa: Gauteng Office of the Premier
For more information, contact Department of Trade and industry at tel. 0861 843 384