Written by Chris Bathembu
Tucked away below the rolling hills and rugged grasslands of the former Transkei, lies a promising village with people who have stories of upliftment to tell.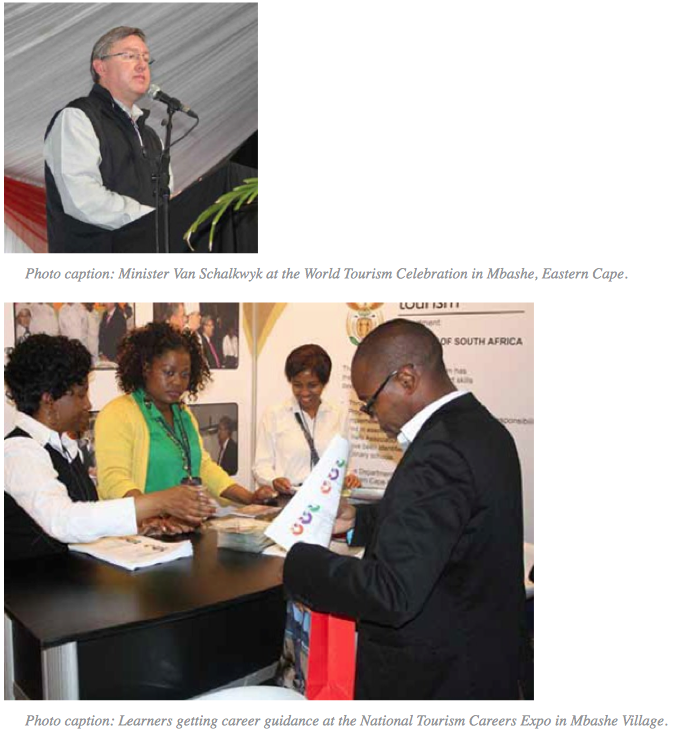 The Mbashe royal village is home to one of the most inspiring communities in the former homeland. Here the community members are determined to do it for themselves, despite the challenges of poverty and underdevelopment. This is an area that has given birth to Nelson Mandela, a world icon and probably the greatest South African ever to have lived. President Jacob Zuma recently visited Mbashe, where he unveiled the construction site of the Nelson Mandela legacy bridge. The project forms part of a government-wide rural development programme to uplift communities and combat poverty and food insecurity.
If you are on a whistle-stop tour of the Eastern Cape countryside and are interested in African culture, crafts markets and traditional Xhosa dance, this is the place to visit. That is why government identified Mbashe as this year's host of the World Tourism Day celebration. Officials say the area's unique attractions and its location at the centre of the wild coast qualifies it as a future tourism hotspot.
Reporter Chris Bathembu caught up with Thembixolo Gcuwa, a man who has been at the forefront of development in the village. He leads traditional clothing and craft-making projects that have made a significant difference for many families.
"Despite its rich history and its location, the community felt they were being neglected. We have so much to offer and we have never depended on anyone but ourselves. We are grateful that government is helping us where it can," Gcuwa says.
"People here live simple lives. We use natural resources at our disposal to make traditional clothing, beads and other crafts. These skills require training. We started very small but the project kept growing. We hoped that with all the developments in Mbashe, we would be able to attract more people who will appreciate our trade."
During his visit, Tourism Minister Marthinus van Schalkwyk said government plans to introduce tourism skills training to villages such as Mbashe to ensure sustainable growth and development.
"We have beautiful landscapes, warm people and the rich culture is something really unique. We want people to take advantage of that and make it work for them through tourism initiatives supported by the department," Van Schalkwyk said.
But Gcuwa is worried that most of their work is sold to European tourists and he would love to see more South Africans visiting the village.
"Locals always complain that the things we sell are expensive. They forget that we are investing in the local economy and creating jobs. It is very sad that our work is only appreciated by outsiders.
"We appreciate the support of the visitors but it would be lovely if South Africans could also appreciate our heritage."
The group of six is currently planning to open a store in Mthatha and wants expand to other parts of the province. With the demand for traditional clothing growing during September, Gcuwa hopes to take advantage of the heritage month's euphoria to market the business.
"Along with the local traditional leaders, we are working on plans to ensure community projects like these don't die. It's never easy to sustain the income because business is not always steady. We depend on peak seasons such as December. We feel that with a bit of marketing we can do better to help our people appreciate what we do.
"We don't believe in hand outs, we would like grow our own business but we cannot say no when government or anyone wants to assist.
"For now we provide part-time jobs to very few people and are hoping to expand. Some day we want to own a sustainable business; one that can make a difference in our community." Gcuwa says he would like to grow the business to provide sustainable jobs for locals and
to reach other parts of the country.
"We would like to show it is possible to use one's hands to make a living."
Van Schalkwyk believes that with the right attitude and will, tourism could be an answer to South Africa's unemployment challenge.
It is easier to create jobs in the tourism sector compared to other sectors. It's cheaper, easier and more cost effective. However, people need to feel that they can do it themselves. Some of our projects in collaboration with the private sector aim to identify where we need more bed and breakfasts, where we need to train people to be tour guides, drivers and waiters. And that's exactly what we are doing.