Written by Samona Murugan
Eskom made every effort to impress at their annual Business Investment Competition (BIC) Awards Gala Dinner held in Gauteng recently. The competition recognises and rewards the bravery and perseverance of small businesses with the potential to stimulate the entrepreneurial market space in South Africa.
The competition, a flagship event run by the Eskom Development Foundation, is open to registered South African, black-owned enterprises that have been operating for more than a year. The businesses may operate in any province in the agricultural, manufacturing and trade/services sectors.
The top-three winners in their respective categories were in the trading and services sector – AchWorXS; in the manufacturing sector – Elegant Line Chemicals; and in the agricultural sector – Tlamelo Fresh Produce.
Trading and services sector: ArchWorxs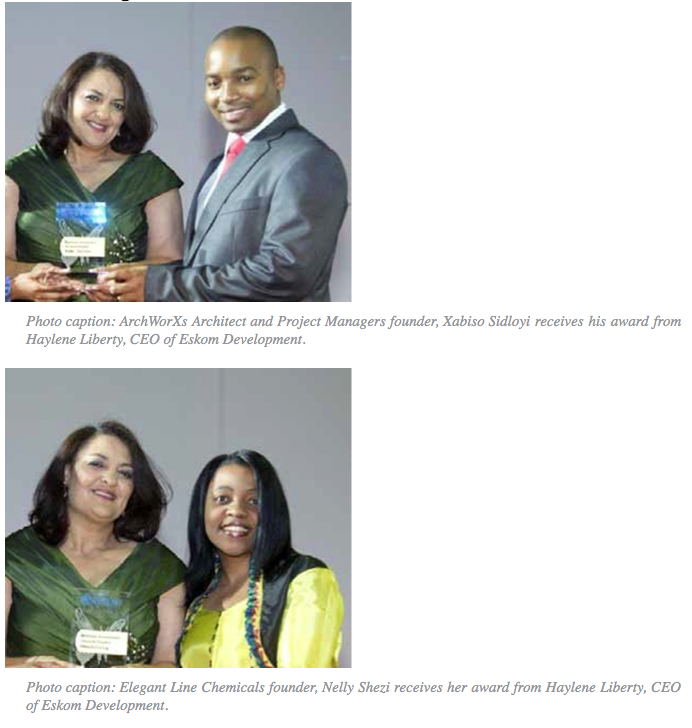 ArchWorXs is a small architectural firm with branches in Port Elizabeth and East London in the Eastern Cape. Founded in June 2008, they provide architecture and project management services while employing 10 qualified people. The business has grown from humble beginnings in founder Xabiso Sidloyi's bedroom to a successful company. Sidloyi admits that the recession has slowed down the market considerably, but he is proud that they could still grow the company under these conditions.
The sound financial management and impressive growth of this business in the face of difficult circumstances won over the adjudicators. "This kind of business often suffers from cash-flow issues, although skills are never a problem," the adjudication panel noted. "But they seem to have grown nonetheless. Sidloyi understands the market. He knows where his market opportunities are, and in an industry that is prone to corruption, he is running an honest operation that is just growing and growing."
Sidloyi was very proud to have claimed top place in his category. "It means a lot, as it is in recognition of all our hard work in building the company," he said. "The prize money will allow us to buy furniture and computers, which will help us employ more staff and deliver more to clients."
ArchWorXS was awarded a cash prize of R100 000 to improve the business. They may now also exhibit at the annual Eskom Business Opportunities and Franchise Expo (BOFE).The expo gives small businesses a versatile marketing platform from which to build brand awareness, interact with potential customers and investors, and generate media coverage.
Manufacturing sector: Elegant Line Chemicals
The adjudicators at Eskom's annual Business Investment Competition (BIC) were clear on two points: starting a small business in South Africa requires an extraordinary amount of courage and it is crucial to follow your line of expertise. The winner of the manufacturing sector, Elegant Line Chemicals, lives up to these two principles and has been an inspiration to finalists, adjudicators and organisers alike.
Elegant Line is a successful, female-run company in Durban that has been in operation since January 2007. The business employs 15 people and produces detergents, water treatment chemicals, lubricants and industrial commodities. The services they provide are wastewater management, lab-testing services, and research and development of new products for the market.
When co-owner Nelly Shezi started the company, she was working full time as a senior chemist. She saw an opportunity to give back to her community and fulfil her dream of creating jobs by starting her own business. "I started with one tiny office and just one employee – a receptionist. We only distributed chemicals then and didn't manufacture them," Shezi said.
After a year, Elegant Line started making detergents, but once they started making water treatment chemicals, lubricants and industrial commodities the business really took off. Shezi's perseverance and skills have taken the company from one success to the next. "It hasn't been easy, but I have learnt that you have to persevere," Shezi said. "It's important to know what you want out of life and make it happen. It's also crucial to do something in line with your expertise. We have built the foundation and we are headed in the right direction. We now need to focus on aggressive marketing."
Elegant Line impressed adjudicators by its innovation and sustainability. "It often happens in this business that people limit themselves to household detergents and don't go any further, as they cannot compete with commercial companies," the panel noted. "But Elegant Line employees are qualified, which gives them the ability to invent new products. There is also potential in the services they offer on a commercial level. As a black- owned company in this industry, there is a big market for them to tap into. Sometimes you find that the potential is there but the business doesn't have what it takes to exploit that potential. But that is not the case here."
As the winner in their category, Elegant Line won R100 000 to improve the business. They can now also exhibit at the annual Eskom Business Opportunities and Franchise Expo (BOFE).
Agricultural sector: Tlamelo Fresh Produce
Making a success of a small business, particularly in the agricultural sector in South Africa, takes courage, vision and foresight – three qualities Pearl Tlamelo, owner of Tlamelo Fresh Produce, has in abundance.
This was what impressed the adjudicators of Eskom's annual Business Investment Com- petition (BIC) when they awarded Tlamelo Fresh Produce first place in the agricultural category, which saw her winning R100 000 in prize money to improve her business.
Tlamelo Fresh Produce, a dynamic agricultural business near Mahikeng in North West, succeeded in edging out the competition thanks to the diversification and foresight in their business plan.
The business has been in operation since February 2007 and they are involved in organic and inorganic farming. Tlamelo Fresh Produce employs 18 people. The business has grown from a two-hectare plot to a thriving agricultural business. They produce a range of vegetables and have recently started mixed farming by adding a piggery, poultry and cattle to their farm.
Tlamelo's spirit and dedication along with what she has accomplished in the tough agricultural market has impressed adjudicators. In addition, her passion, understanding of farming, strong business acumen and the fact that she was doing everything on her own without expecting handouts also made a great impression. "The product diversification in her business strategy is profound. She is lateral in her approach and is driving everything on her own," the panel of adjudicators commented.
A particular focus of Tlamelo's is creating employment for the youth in her community. She enjoys teaching them, helping them to build confidence and finds the process of growing together very rewarding. Interestingly, she chose one of her younger employees to accompany her to the BIC adjudication in Johannesburg to open her eyes to the potential of the business and the entrepreneurship. "I have brought a young employee to the adjudication with me to show her what we can achieve – and that in agriculture you don't have to be dirty all the time," Tlamelo added jokingly.
She outshone the competition largely be- cause of the benefits her vision has brought to her business. "She wants to get into agro-processing," noted the adjudicators. "That vision is there. She has both foresight and insight."
Tlamelo won R100 000 in the first competition she has entered on her own, after having heard about the BIC on the radio.
"This shows that I have grown and the business has grown," she commented. "I can now stand up and say: 'This is what we can do.' People will be able to see as a youngster you can make a difference in Mahikeng."
For more information, contact Eskom at tel. 0860 037 566