Sport
They came from the dusty rural and farm school playgrounds and gathered at the Boksburg Stadium to show off their sporting talents.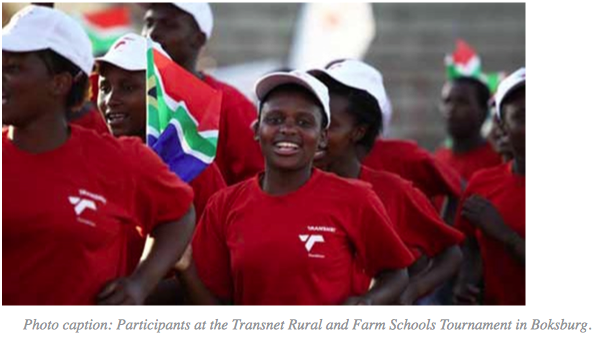 Some of them came to the city for the first time in their lives to take part in the finals of the Transnet Rural and Farm Schools Tournament in October.
In total, 2 000 young people gathered at the Boksburg Stadium to display their talents, playing football, netball, athletics and chess on grass fields.
"Coming from a rural area, the children were so excited to be in the city. For some, this was their fi time here," Bakamela Rai, a teacher from Mabela Intermediate School in the Free State, said.
The Transnet Foundation gives opportunities to learners who do not have access to sport facilities In addition, the foundation identifies and develops young sporting talent in rural areas to become successful. By means of the programme, young people from rural areas can display their talent to the broader sporting public. The initiative is jointly hosted by the Department of Education and aims to form holistically run sports leagues for boys and girls between the ages of 13 and 19 in rural areas.
"We have to nurture the collaborative partnership with Transnet Foundation to elevate and turn our farm and rural schools into centres of excellence. It creates conditions through which quality learning and teaching can take place. This has to be treasured and nourished by all concerned," the Department of Basic Education said.
The tournament started with 22 000 learners from seven provinces taking part. Many were eliminated and only 2 000 survived to face off over three days in Boksburg. Sports celebrities as well as former Miss South Africa, Bokang Montsane, and Transnet executives attended the event.
Transnet group chief executive officer Brian Molefe encouraged participants and said it was an achievement to compete in the tournament. "You are all champions in your own way. This doesn't mean you have to be number one. Just do your best.
"Consider for a moment what we achieve from sport, the sheer fun of competing, the building of a healthy and alert mind and body, stamina, courage, perseverance, dedication, commitment, selflessness, and most importantly, the will to excel."