Written by Mbulelo Baloyi
Police Crime Imbizo
The Police Crime Imbizo forms part of an ongoing campaign by police to visit communities where there are high crime levels, including the use of deadly drugs. This gives people the opportunity to speak their minds on crime and to find ways to cooperate with the police.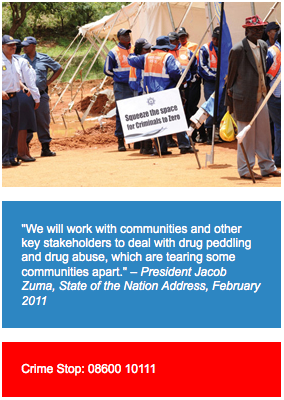 Community members could not believe their ears when National Police Commissioner General Bheki Cele ordered the Gauteng police management to give their police issue cellphone numbers to a packed marquee in Soshanguve near Pretoria recently.
The occasion was the Police Crime Imbizo held at Rietgat Grounds in Soshanguve outside Pretoria.
Complaints
During the emotionally charged Imbizo, community members could not hide their frustration about the high levels of crime.
Complaints raised by community members included the police's reluctance to deal with drug dealers, poor response time by police and the lack of resources such as police cars.
In addition, community members also complained about the slow response time of police during incidents of crime and the failure by police at station level to answer calls from the public.
Applause
This prompted Minister Mthethwa to recommend that it was high time that contact numbers of senior police management be given to community members so that they could call them if they did not get help at station level.
Leading by example, General Cele took to the podium and gave out his cellphone number. He repeated it twice to the drowning applause of the approving community members.
Deadly drugs
Areas that police have visited include Itshelimnyama Reserve in Marianhill outside Pinetown in KwaZulu- Natal.
In both Itshelimnyama and Soshanguve many people have started to use a deadly cocktail of recreational drugs called "Whoonga" and "Nyaupe" respectively. These drugs are said to include a combination of heroine or mandrax mixed with antiretroviral drugs, as well as deadly pellets used to kill rats and mice.
Stop idolising criminals
During the Police Crime Imbizo, Minister Mthethwa urged community members to stop idolising criminals. He said they should be reported to the police so that they could be arrested. The police must profile the drug lords so that they can be charged as they are the ones who are killing the country's future by selling drugs to learners, the Minister said. Mthethwa said a plan must be found to get rid of drugs in the area and at school premises.
"The schools are our future and if they are targeted by drug peddlers, then that means our future is doomed," he said.