Library Building Programme
Thanks to the King Dinizulu Library, which was recently opened by the KwaZulu-Natal Department of Arts, Culture and Tourism, learners in the community of Eshowe can now realise their dreams of following their chosen careers.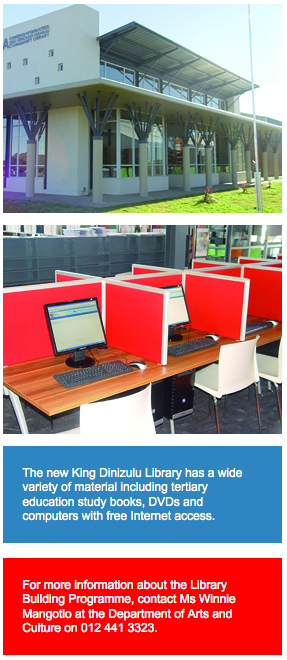 While most schools in the surrounding areas do have libraries, they don't have enough books and computer resources for all the learners. The new library has a wide variety of books including tertiary education books, as well as DVDs and computers with free Internet access. The library also has a meeting room and a spacious studying area.
Wealth of possibilities
Community libraries are welcoming and safe places for children of all ages to find information. Since the library opened its doors, learners and community members have flocked in to discover the wealth of possibilities it offers.
Learners and students from neighbouring communities use the library for school projects and tertiary education assignments. It also helps them to choose career paths for the future. Children are encouraged to visit the library and improve their education instead of becoming involved in criminal activities.
All other members of the community, including the elderly, are also welcome.
Community needs
The Department of Arts and Culture in the Umlalazi Municipality supports five libraries at Eshowe, Gingindlovu, King Dinizulu, Mtunzini and Sunnydale.
The King Dinuzulu Library received books and other library material to the value to R1,5 million from the Regional Library Depot in Pinetown. This stock will constantly be refreshed and updated to meet the needs of the community.
All are welcome
All members of the community may use community libraries free of charge. Parents are therefore urged to encourage their children to make use of libraries. No matter what age you are, you will find books to suit your needs and interests.