Your health
What do nurses do?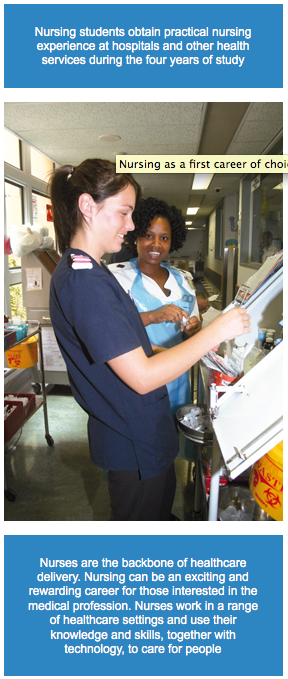 A nurse can work in various hospitals and clinics in the community, or specialise in general medical and surgical nursing science, trauma nursing, theatre nursing, community nursing, psychiatric nursing, midwifery nursing, paediatric nursing, neonatal nursing, nursing management and nursing education.
How do I become a nurse?
Training is offered at nursing education institutions. These institutions can be a nursing science department, a school of nursing in a university, or colleges of nursing and nursing schools. In South Africa there are at present three categories of nurses: registered nurse, enrolled nurse and enrolled nursing auxiliary.
What training does a university offer?
Universities offer a basic four-year, full-time undergraduate degree (BCur) that prepares students in four career fields, namely: general nursing (caring for people in hospitals, clinics and private practices); community nursing (primary healthcare and the prevention of disease in the com-munity); psychiatric nursing (treating the mental health of individuals); midwifery nursing (caring for mothers and babies).
Clinical (practical) nursing ex-perience is obtained at hospitals and other health services during the four years of study. Universities also offer post basic qualifications at diploma, degree, masters and doctorate levels.
What training does a college of nursing offer?
There are public and private nursing colleges and the most common courses they offer are: a four-year diploma leading to registration as a nurse (general, psychiatry, community or midwifery); a two-year bridging course; one-year courses; post basic diplomas.
What courses will I study?
A student can expect to study fundamental subjects such as anatomy and physiology, behavioural sciences, nursing, midwifery, community and psychiatric nursing.
What are the academic requirements for college study?
A matriculation certificate is the minimum admission requirement for college study.
What are the academic requirements for university study?
The admission requirements for university are a matriculation exemption (some universities require certain subjects like Biology, Physical Science or Mathematics). As there are different academic requirements, it would be best to contact the training institutions for their specific requirements.
How can I recognise a fly-by-night training institution?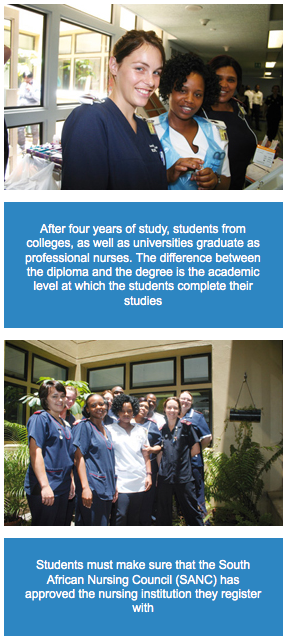 Students must be very careful and make sure that the South African Nursing Council (SANC) has approved the nursing institution they register with. If the institution and/ or courses are not approved, SANC will not recognise the training and the student will not be allowed to practise. A list of the SANC approved nursing education institutions is available on their website www.sanc.co.za.
What is the difference between a nursing degree and a diploma?
After four years of study, students from colleges and universities graduate as pro-fessional nurses. The difference between the diploma and the degree is the academic level at which students complete their studies. A BCur graduate will have an advantage when it comes to specialising in a certain field of nursing. Bridging courses are available for college graduates to 'top-up' their qualifications to a degree level to assist future career development.
A nursing college is the answer for the student who cannot afford university fees. An advantage is that students receive payment for their practical (clinical) work while they are studying. A university student is required to study as a full-time student.
Nursing categories
The SANC is currently reviewing all the nursing training programmes to align new nursing qualifications with the National Qualifications Framework and related legislations.
The new Nursing Act, 2005 identifies four nursing categories: professional nurse; midwife; staff nurse; nursing auxiliary or auxiliary midwife.
For more information, contact the Department of Health:

www.doh.gov.za

or the South African Nursing Council:

www.sanc.co.za