Written by Mbulelo Baloyi
Police recruitment policy
As the first line of defence in government's fight against crime, the Police Department has put in place a new recruitment policy to ensure that new recruits will be able to handle the important task of turning the tide against crime.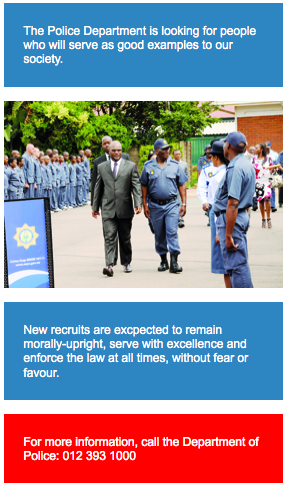 The new recruitment process will be more open and thorough, said Police Commissioner General Bheki Cele. He welcomed more than 1 800 new police recruits during a recent ceremony at the Pretoria West police training college. The new recruits are among 5 000 who started their basic training across nine training institutions in the country in January.
Good examples
Cele said the Police Department is now looking for people who will serve as good examples to our society. In the past, the police service had become a dumping ground for those who had failed to get placement in other areas.
The new approach to recruitment will not only ensure that recruitment is fair and open to all, but will also help to avoid attracting people to the police who may not be suitable for the job.
Community approval
From now on would-be recruits will have to be approved by the communities from where they come. This will also involve stakeholders representing communities, such as community policing forums.
In addition, recruitment is now being handled by provincial recruitment and selection committees instead of individual people. The provincial selection committees, in turn, work with a national recruitment and selection 31committee which oversees the work of the provincial committees.
Batho pele
Instead of the traditional 12-month training period, the training will now take two years. This will include theory, as well as practical training.
The new recruits will also be trained in certain aspects of the Constitution and batho pele principles.
The previous requirement that potential recruits should have a driver's licence had proven to be a problem as it had excluded many good candidates. The new recruitment policy therefore do not require new recruits to have a driver's licence since driving lessons will now form part of the training.
Discipline and principles
Speaking at the same welcoming ceremony, Police Minister Nathi Mthethwa said it was expected of the new police recruits to uphold discipline and the principles of the Constitution.
He said the Police were in search of a new kind of policeman or woman. New recruits should remain morally upright, serve with excellence and enforce the law at all times, without fear or favour.
Shield of the nation
"You heeded the call and the entire nation will be looking upon you for their safety. The expectations will be no less. Without doubt the challenges will be massive. Now more than before, the nation will in the coming years rely on you to fight crime. You will be the shields of the nation," said Minister Mthethwa.