Focus on the provinces: KwaZulu-Natal
Loyalty, determination and hard work finally paid off for a group of KwaZulu-Natal farm workers when they bought a poultry farm from their employer with the help of government. The eggproducing farm continues to provide an income and job security from more than 15 people in Ngogo area outside Newcastle.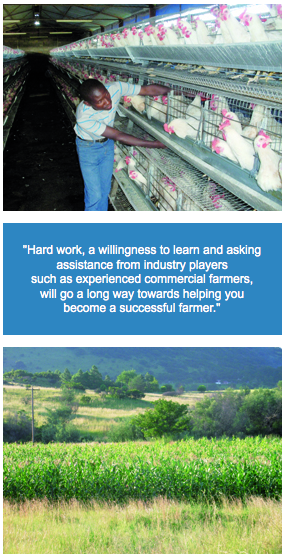 It all started in 1991 when a Western Cape policeman who had been posted to the area of Newcastle started a small poultry farming business in Ngogo. Seventeen years later in 2008, the policeman was approaching his retirement and he started to look for a buyer for his poultry farming business.
Locals
The retiring policeman's wish was to see his successful farm continue to provide employment for the locals who worked for him.
"He said because of the loyalty, dedication that we had shown during the 17 years we worked with him, he would prefer that he sell the farm to us," said Thuthukani Farming Close Corporation Chairman Mr Mthobisi Madi.
Business plan
Madi and the other farm workers, who are all young people, approached the KwaZulu-Natal development finance institution
Ithala Bank for financial assistance. They were advised that they should approach the then Land Affairs Department now called the Rural Development and Land Reform.
"After seeing our business plan and the income that the business was bringing in, the Department of Rural Development and Land Reform decided to buy the land and buildings of the 135-hectare poultry farm," said Madi.
He said the owner's asking price for the land, buildings and the implements had been R3,9 million. The Rural Development and Land Reform Department paid the R2,7 million for land and buildings while Ithala Bank paid the remaining R1,2 million for the implements and other assets that were on the farm at the time.
"With the loan from Ithala Bank we also bought our first stock of broiler laying chicks. We also added two more chicken sheds to the existing one thus bringing to three the number of chicken sheds," said Madi.
Members of Thuthukani Farming cc also wanted to start crop production on the remaining part of the farm, but there was a delay in approving funding from Ithala Bank.
Supermarkets
They have 7 600 laying hens and supply fresh eggs twice a week to local supermarkets in Newcastle and Madadeni, as well as the border town of Volkrust. They also bought two one-tonne light-delivery vehicles to deliver their egg orders.
"We would have liked to start on the crop production side, but since we only have one tractor to till the land, it is difficult to do so. We plan to add another tractor and buy seeds, fertlizers and other implements," said Madi.
They believe that they will be able to reduce the cost of buying
chicken feed if they could plant their own maize. By growing their own maize the farm could become more profitable.
Abattoir
They plan to expand their farming operation to include providing chicken meat in addition to eggs.
"Hopefully, when we grow we can build our own abattoir here and slaughter chicken for the fresh chicken market and do some processing as well."
They also plan to start with pig farming soon and have already bought a boar and a sow.
Support and advice
Madi said the success of the egg-producing farm would not be possible without assistance, support and advice from other local neighbouring commercial farmers.
"Some of the local commercial farmers are supporting us and assisting with advice. Sometimes they also help by lending us implements."
He said the provincial Department of Agriculture, Environmental Affairs and Rural Development also supported them by providing extension services and advice.
Be willing to learn
According to Madi, the reason why many farmers failed after receiving farms from government was because the new owners neglected them.
"Hard work, a willingness to learn and asking assistance from industry players such as experienced commercial farmers, will go a long way towards helping you become a successful farmer," he said.