"Invest in yourselves" was the message from Education MEC Barbara Creecy to 1 703 top matriculants who received bursaries for further study. The bursaries, totalling R120 million, were awarded by the Gauteng Provincial Government to top performing learners from impoverished, under-performing and no-paying schools in Gauteng.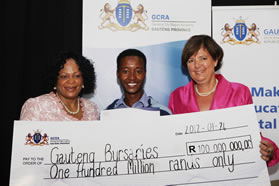 Speaking at the bursary hand-over ceremony in Johannesburg, the MEC said these learners who were sometimes referred to as the "lost generation" had travelled a very hard road to reach success. They gave up their Saturdays, dared the cold winter and dedicated their attention to their studies.
"In this world, only one person can ever change you and that is yourself. Invest in yourself," she advised.
Special skills
Speaking at the same event, Premier Nomvula Mokonyane expressed her delight that 1 200 of the recipients were girls.
Praising the recipients for their hard work and dedication, Mokonyane said the Gauteng Provincial Government wanted to drive a knowledge-based economy that demanded special skills and capacity.
She added that the financial support they were receiving came with a package aimed at instilling discipline. "The Academy will not pay for failed subjects or for those who failed completely and require re-registration. Bursars are expected to do community service from their second year of study in any government institution as approved by the academy."
Run with it
Relating her success story as a bursary beneficiary, Zanele Mabena, who is now a third-year student in BA International Studies at the University of Pretoria, advised fellow learners to set aside at least three or four years of their lives and concentrate on their studies.
"It is doable. Take this wonderful opportunity and run with it like Caster Semenya on the tracks. Do not take this for granted. Four years is all it takes," she said.
For more information, call the Gauteng Department of Education on: 011 355 0000