Role model
For most young teenagers, the world after completing high school is filled with uncertainties about their future careers. But 17-year old Funanani Munzhelele was determined to achieve his dream of studying Mechanical Engineering, despite being disabled. Always doing his best, was his path to achieving the best.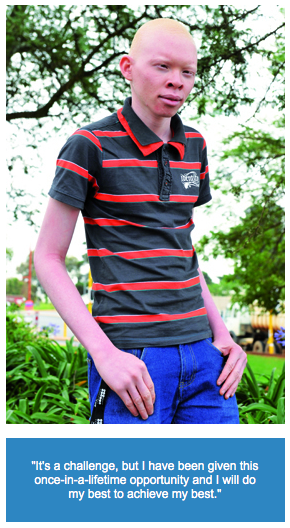 Funanani is not like most other teenagers his age; he is affected by albinism. People with albinism have little or no pigment in their eyes, skin or hair. Due to this lack of pigment, called melanin, their skins are very light and many parts of their bodies are affected, including their eyesight.
But Funanani has not allowed albinism to stand in his way. He has always been determined to do his best and has managed to reach the top of his class exceeding all his teachers' expectations despite the stumbling blocks.
Exceptional student
Regardless of his disability, Funanani was named a top matric learner in 2010 in the Tshwane West district after obtaining five distinctions, including a 90 per cent pass in Mathematics. Thanks to to his outstanding performance, the Department of Public Works awarded a bursary to Funanai to study Mechanical Engineering at the University of Johannesburg.
School principal Willem van der Merwe says Funanani is an exceptional and hard-working student. He reached the top because he doesn't allow anyone or anything to stand in his way.
Funanani has done his family and his community very proud. He encourages all young teenagers, to work hard and to believe in themselves. "If you do this, you will achieve your goals," he said.
Loving family
Funanani said he was very fortunate to be raised by a loving family in Limpopo. His Dad, Shumani, who is an educator, and his mother, Mercy, who works as a local security guard, never made him feel different and sent him to a normal school.
"I was so excited to go to a normal school and I made lots of friends, but I had to sit right at the front of the class because I struggled to see the blackboard."
Top of the class
The family noticed Funanani's eyesight deteriorating from a young age. When his parents realised that this was starting to affect his schoolwork, they decided to enrol him at the Filadelfia Secondary School in Soshanguve for children with disabilities.
In this environment where he could relate to other students with similar learning difficulties, he excelled in his school work. With smaller classes and individual attention from teachers, Funanani was soon top of his class in all his favourite subjects. These included Physical Science, Mathematics, Engineering, Mechanical Technology, Graphic Design and Tshivenda.
Inquiring mind
Funanani said his love for electronics started from a young age. His dad, Shumani, said as a young child, he was always trying to take things apart and would then try to rebuild them himself. "His inquiring and bright mind was always on the go," said Shumani.
Aside from all things mechanical, Funanani loves chess, cricket and golf. He had a chance to play blind cricket and loved to bowl. But he admits he really loves golf and hopes to become a regular golfer one day.
Extra mile
Funanani said he managed to obtain excellent results in his matric exams through hard work and support from dedicated teachers and loving parents. He put in extra study time and was always taking notes and asking questions in class. The support and guidance he received from his mentors, the school's Mechanical Technology and Mathematics teachers, helped him to perform at his best. When you have that kind of support, the sky is the limit he said.
"They really helped me a lot and went the extra mile to make sure I understood everything despite my disability," said Funanani.
Disability Unit
Funanani is now a first-year student at the University of Johannesburg. He has been thrown into a world where he is up against able-bodied students, but with help from the University's Disability Unit, he is getting extra guidance.
Funanani goes to classes early and always sits at the front where he is able to take notes and ask questions during lectures. He enjoys the challenge of studying and his goal is to become a successful Mechanical Engineer.
Travel
Funanani loves to travel. He would love to see the world and especially his favourite place, Japan, "the most advanced country in technology."
Being the oldest child in his family, he has to be a role model to his younger siblings, said Funanani. "They need to know that with hard work they can overcome any obstacle and achieve great results in school."
Receiving a bursary was a dream come true he said. "It is such a weight lifted off my parents' shoulders. Getting a tertiary education is very expensive and is a financial burden on many parents. I am so grateful that my parents don't have to suffer and that I'm getting a great education."