Social security grants
For many South African families, social security grants have become their only source of income. These grants include old-age pension, disability, foster care, child-support, war veterans and social relief of distress. People who wish to receive or continue to receive grants, must make sure that they meet the specific requirements.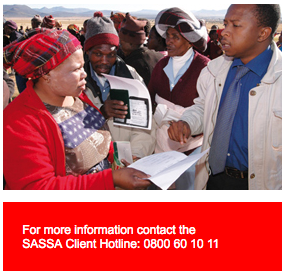 The South African Social Security Agency (SASSA), an agency of the Department of Social Development, is responsible for paying social security grants. To qualify for a grant, an application must be made at any of the SASSA offices throughout the country.
Remote areas
In addition to these offices, SASSA also has trucks that serve as mobile offices. The trucks go to remote areas to help people who don't have easy access to SASSA offices. These trucks usually travel to places where government's outreach programmes with communities are held, such as Public Participation Weeks formerly called Imbizo.
Requirements
People who wish to receive grants, have to meet certain requirements. For example, beneficiaries of old age pension grants should not be receiving any other source of income or other grants at the same time.
To receive a disability grant, you must be between the ages of 18 and 59 and must provide a medical or assessment report showing that you are disabled. The report should not be older than three months at the date of application.
Some disability grants are issued on a temporary basis and are reviewed after a certain period of time.
Foster care
The care dependency grant also requires applicants to provide a medical or assessment report. The medical or assessment report must show permanent or severe disability and the child must also not be permanently cared for in a State institution like an orphanage or a children's home.
This grant is paid to persons living with a child that is dependent on those persons for care. The child must be under the age of 18.
Assessment
SASSA advises people who receive foster care grants to notify their nearest SASSA office when the child on whose behalf the care grant is paid, is about to turn 18 years as the grant will be stopped automatically at the age of 18.
The foster care parent has to notify SASSA at least 90 days or three months before the child turns 18 so that an assessment can be made whether to continue to pay the grant if the child is still dependent on the foster parent's care.
Temporary grants
This also applies to people who receive temporary disability grants. They have to notify SASSA at least three months before the grant is due to be stopped. The grants are stopped when there has been a change in the circumstances of the recipient.
For example, if you receive a temporary disability grant, a change in your medical circumstances such as recovering from the temporary disability, will result in the grant being stopped.