Written by Samona Murugan
Disaster management
Recent floods in many parts of the country, have left thousands of people homeless, several homes, bridges and roads were damaged and more than 50 people have died. Government set aside R800 million to assist people affected by the floods. Non-governmental organisations and the private sector have also reached out to help.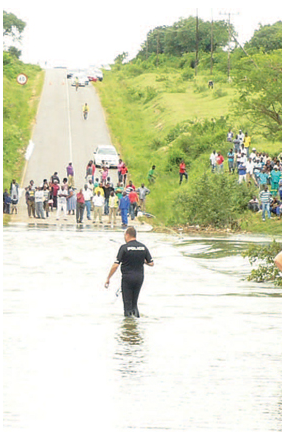 Flood damage has seen 33 district municipalities in eight provinces declared as disaster areas. The money put aside by government will be used to provide immediate relief of communities that were affected by the floods.
Municipalities and disaster management services around the country are continuing to assess the damage to infrastructure, homes and farming land. In the meantime, government has provided shelter, food parcels and counselling to stranded families. Immediate flood relief goods include bags of maize meal, as well as rice, beans, sugar, tea and cooking oil. The hygiene pack included toothpaste, dish washing liquid, washing powder and petroleum jelly, among other items.
Water infrastructure
The Department of Water and Environmental Affairs has conducted a
national assessment on the state of water infrastructure. This includes water treatment works that have been flooded, which can be a threat to the water quality.
The department also assigned teams to assess and cost the damage to its own infrastructure, mainly water and dam monitoring equipment that could be damaged or even uprooted.
A helping hand
The National Lottery has contributed R50 million and the Department of Public Works has announced that R150 million will be used to fix potholes and R30 million to build bridges. Banking giant Absa has also responded to the call for help by donating R1 million for disaster relief.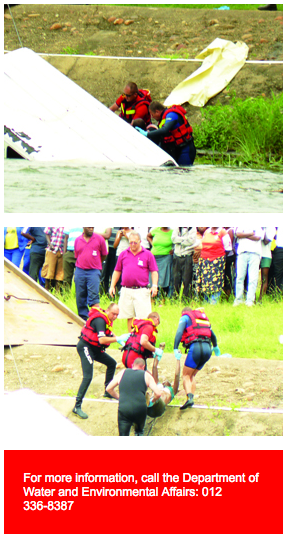 Non-governmental organisations, the private sector, religious organisations and communities are also lending a helping hand to flood victims.
The Gift of the Givers, a non-governmental organisation, well-known for providing humanitarian assistance in disaster stricken areas, sent food and hygiene parcels to the victims of flash floods at Themba Khoza informal settlement, near Ivory Park outside Tembisa.
Clean water
After the floods, many informal areas had no electricity. Sewage was running down the streets and there were only a few water taps for thousands of residents. This has led to victims in many affected areas using polluted water from the rivers, which is dangerous as it could lead to water-borne diseases.
A pressing need arose for clean water, food and shelter, as well as control and treatment of possible water-borne diseases such as cholera and diarrhoea.
Anti-cholera campaigns were started in the affected areas to educate communities on water safety and ways of treating polluted water.
The Department of Water and Environmental Affairs has provided clean water through tankers and the installation of rainwater tanks.
Precautions
The public is encouraged to take normal precautions when using water from rivers and streams in affected areas. The vaccination of livestock is also very important. More awareness campaigns can be expected to alert the nation to the dangers that come with flooding and the after effects of floods.
Government has further intensified its flood relief efforts by putting aside R20 million to rebuild the country's infrastructure and offer assistance to households ravaged by the flash floods. It has also earmarked funding to deal with post-disaster recovery and reconstruction in the years ahead.
Disaster areas




After the floods, eight of South Africa's provinces were declared as disaster areas in terms of the Disaster Management Act. This means they are priority areas for receiving help. The only province not declared a disaster area is the Western Cape. Cost of damage in the provinces worst affected by the floods:




-- KwaZulu-Natal: about R300 million




-- Eastern Cape: R150 million




-- North West Province: about R80 million




-- Northern Cape: R50 million