Written by Mbulelo Baloyi
Disaster management
The number of weather-related natural disasters has increased during the past few years throughout the world. This has resulted in the loss of lives and damage to property.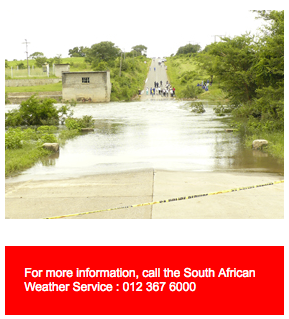 Several parts of South Africa experienced severe weather conditions recently which saw most of the country's provinces including Gauteng, KwaZulu- Natal, Limpopo, Northern Cape, North West and the Free State hit by floods.
Bridges have been washed away cutting off communities, some people lost their homes and many farmers suffered crop losses.
 
Accurate forecasts
It is against this background that the South African Weather Service has developed a flood early warning system.
The Flash Flood Guidance System started operating in July last year. It is used by the South African Weather Service to warn people of possible flooding.
The system provides weather warnings in userfriendly language that can be understood by everyone. The system works by collecting information from automatic weather and rain systems, satellites and radars. This information helps weather forecasters to make accurate forecasts.
Prepare in advance
It is thanks to this system that the National Disaster Management Centre of the Department of Cooperative Governance was able to give an early warning to municipalities that were to be affected by floods. This helped them to prepare in advance.