Winning letter: Let's end road rage!
I am very disappointed by the way we as South Africans are behaving on our national roads. If you are involved in an incident where someone drives recklessly, do not try to take revenge. If an accident was not caused when driving recklessly, do not cause it yourself by acting out in anger.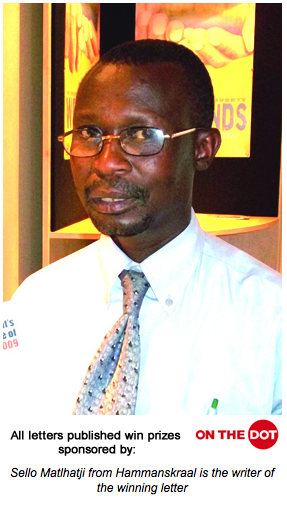 A small driving mistake can cause an accident that may take the life of a precious brother or sister. If other people drive recklessly near you, don't get angry, just calm down and regard it as a mistake. Don't make it worse with road rage!
- Sello Matlhatji, Hammanskraal, Gauteng
Encourage adult literacy
Government has produced Kha ri Gude – Let us Learn – to help illiterate people. Dear friends, everyone can learn to read and write. Please encourage your illiterate parents, neighbours and friends to learn. There are no fees, and the study material is free.
– Ramakgahlela Dorris, Mashite, Ga-Mphahlale, Limpopo
Use your talents indeed
The letter about using your talents that was published in Vuk'uzenzele magazine recently, reminded me that I have an aptitude for being a businessman. So I started a small business of selling cigarettes; I even opened an account to save my money. I know my business will one day grow and will be registered so that I will be able to contribute to the economy of our country and create job opportunities in my community. Thank you, Vuk'uzenzele, you are the best magazine I've ever seen. Keep it up!
– Khakhau Sedikanelo, Slovo Park, Qwaqwa, Free State
Fight poverty and crime with education
One of the main reasons for poor results in rural schools is that we lack many things. For example, English is one of the subjects which is not taught well from lower to higher grades. Also, there are no solid foundations, we don't have text books, there's a lack of career guidance, school buildings are not fit as places for teaching learners and there are no sponsorships for bursaries from our towns and cities to motivate rural students to work harder.
We do want to study at good schools in cities and towns, but we lack transport. So, please Minister, we want to see developments which will make our schools known for better education
Reply from the Editor: Education and rural development are among government's key priorities for the next five years. Government is looking at ways to address education challenges in the Eastern Cape and has established the National Education Evaluation Unit to ensure that the schooling system is effectively monitored and evaluated.
Life is a surprise
We often ask ourselves why our lives take a different path from what we expected. The answer is simple – it is because life is actually a surprise, not a planned strategy.
If we knew what life had in store for us, we would try hard to turn things around, which would be wrong, because we learn from our mistakes and they make us the people we are. So appreciate the surprises life throws at you and love your life the way it is, because you only live once.
– Mokhabuki Godwin, Tzaneen, Limpopo
There's nothing to gain from alcohol
I really can't stand what alcohol changes people into; it has ruined my relationship with someone very very close to me. To all the youth, fathers and mothers who are abusing alcohol, just ask yourself this question: "What am I gaining from alcohol?" There is nothing to gain, but everything to lose.
– Khamadi Joseph, Allanridge, Free State
Take action against drugs
The President in his State of the Nation Address, made the important statement that drug and alcohol abuse is tearing families, communities and the country apart. We can all relate to this in one way or another. He called on the police and the nation not to tolerate drug selling and peddling and most importantly, not to tolerate the selling of alcohol to under-aged children. All of us should heed this call and direct more energy to take action against this evil.
– Moses Gama, Katlehong, Gauteng
Piracy destroys our entertainment industry
South Africa has a huge number of talented people who can sing and act. They have the ability to keep other people entertained and educated and they need to get an income for the good work they do. But we see too many people copying these artists' work instead of buying it. It is extremely expensive to produce a film or music. Let us help our singers and actors by ceasing to copy their work and selling it at cheaper prices to the public. It is against the law to copy somebody's work without permission and it is called piracy! Together we must stop this to keep our entertainment industry alive and raise it to a higher standard.
– Mosotho Thabo, Meqheleng, Ficksburg, Free State
Misuse of grants
It is depressing to realise that so many people do not appreciate what government is doing for them. I have seen how the foster care grant has been misused both by the kids that receive them and the foster parents that raise these children.
The money has become a ticket for the children to go out and enjoy themselves until the wee hours of the morning. The foster parents, on the other hand, forget why they are receiving this money and neglect these children that help them have food on the table and clothes on their backs.
People don't want to look for employment anymore; instead they look for orphans to get rich with by pretending to take care of them. I think it's time the government rethinks all these grants, because misusing them is destroying our people and the future of our children.
– Busi Mbiyo, Grahamstown, Eastern Cape
WRITE TO:
Vuk'uzenzele, Private Bag X745, Pretoria, 0001, or e-mail: vukuzenzele@gcis.gov.za.
If you don't want to have your real name published, you may use a different name, but you must include your real name and address in your letters to us. Some letters are edited and shortened for publication due to a lack of space.
PLEASE NOTE:
To win a prize, you must include a physical address and a contact telephone number in letters to us.
Prizes that are not claimed within 90 days, will be forfeited.