Written by Mbulelo Baloyi
Focus on the provinces: Northern Cape
Poor communities in some remote Northern Cape towns are excited at the prospect of being part of an historic event. This event is set to take place in the summer of 2012 in the Hakskeen Pan desert where the world's first 1 600km per hour land speed record attempt will take place.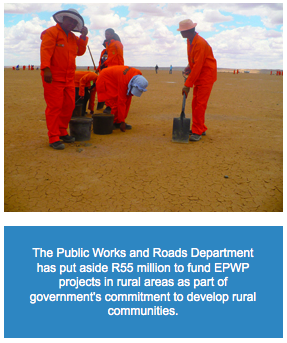 More than 300 residents from Loubos, Rietfontein, Klein Mier, Groot Mier and Philandersbron are helping to prepare the track for a land speed record attempt. Women, men, young and old are picking up stones, rocks and pebbles to turn the area into a race track as part of the Expanded Public Works Programme (EPWP) project for the Bloodhound Supersonic Car.
Creating jobs
The Public Works and Roads Department has put aside an amount of R55 million in 2011 to fund EPWP projects in rural areas as part of government's commitment to develop rural communities.
Northern Cape Public Works and Roads MEC, Mr Dawid Rooi, said his department had decided on the EPWP project to create jobs for the unemployed people of Loubos, Rietfontein and surrounding villages.
"A bulldozer would have done this job within a short period of time, but we deliberately chose to make it an EPWP project so that we could create job opportunities for the local communities," said Rooi.
Protective clothing
The track that is being cleared is 20 km long and at its widest is 1,5 km wide. Five communities surrounding the pan were consulted weeks before to identify needy communities so that they could be hired for six months.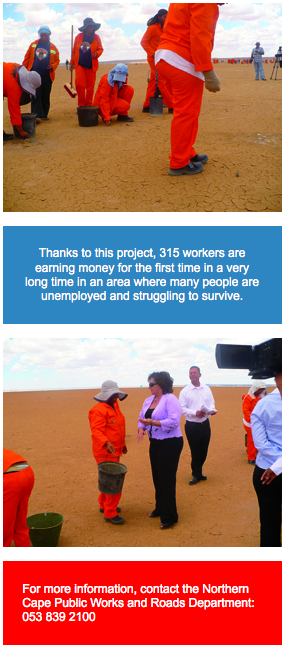 Armed with 150 buckets, 150 spades, 20 wheelbarrows, 50 brooms and 50 rakes, the workers divided themselves into groups working on specified sections of the desert. The workers, who are working in the searing heat of the Kalahari desert, have received protective gear including wide-rimmed hats, overalls, boots and gloves.
Monthly allowance
The workers are paid R700 every two weeks, which is a total monthly allowance of R1 400, to help turn the area into a race track for the Bloodhound Supersonic Car.
According to Track Boss, Rudi Riek, the Hakskeen Pan Bloodhound project is presently the largest upliftment programme in the Northern Cape. Riek said the 315 workers were earning money for the first time in a very long time in an area where many people are unemployed and struggling to survive.
Earn a living
In November last year, Northern Cape Premier, Hazel Jenkins, accompanied by other Members of the Executive Council officially launched this EPWP project. Premier Jenkins said the decision to use manual labour to prepare the race track had helped many families in the area to earn a living.