A few years ago Sigidisabathembu Primary in KwaZulu-Natal was just two shacks with no windows and doors. Today it is a brick school with a new high-tech computer laboratory, recently handed over by the Department of Science and Technology.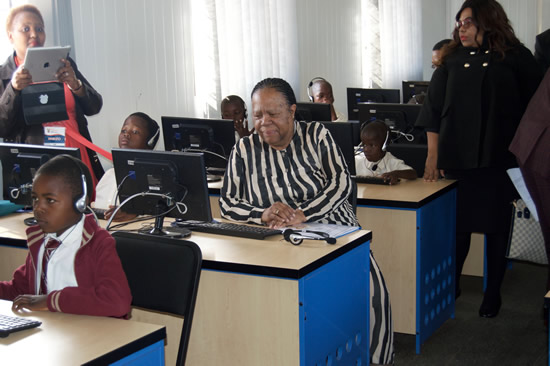 A world of education has opened up for children in the poverty-stricken rural village of Ilenge-Majuqule in Ladysmith, KwaZulu-Natal, thanks to a new high-tech computer laboratory at Sigidisabathembu Primary School.
Now, instead of travelling long distances to access the internet, learners will get to use it every day. The lab, handed over to the school by the Department of Science and Technology recently, is internet-enabled and equipped with 30 desktop computers, a multimedia printer, external hard drives and a projector.
Nine laptops have been donated for the school's six teachers, and 19 tablets for Grade R learners to use. Speaking at the handover ceremony, Minister of Science and Technology Naledi Pandor said the school's students and their educators would now benefit from computer-based learning and teaching programs, providing curricular support for all subjects from Grades R to 7.
Bringing science to rural youth
"The Department of Science and Technology's Youth Into Science Programme was  developed to expand access to science and technology to younger generations in the rural areas," Minister Pandor said.
"Without science and technology we cannot have change. We would not be able to address the range of difficulties that we face. Through science we will discover a way to curb HIV, and overcome the many other diseases that kill hundreds of thousands of Africans on the continent.
"Science has the answer for many challenges in our societies."
Sigidisabathembu School Principal Nozipho Mdunge thanked both the Department of Science and Technology, and the Department of Basic Education, for the changes they had brought to the school.
"When I came here in 2008 the school had only two shacks with no windows and doors," Principal Mdunge said. "When it rained we had to dismiss the learners, because the floors were flooded like a dam. 
"We never thought, back then, that this school would develop like this – that we would have brick structures.
"Not to mention this modern, high-tech computer laboratory!"
 Grade 7 learner Thalente Shabalala said schoolchildren and the community would no longer have to spend time and money travelling to town to use a computer.
"Town is over an hour away," Shabalala said. "We used to spend R90 for transport and R20 at the internet cafe, just to access the internet."