The Vulindlela Heights Industrial Park in Mthatha was recently upgraded to the tune of R22-million to increase manufacturing in the region and allow entrepreneurship to thrive.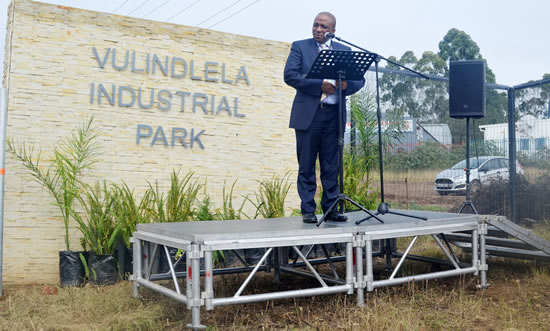 Government's plans to attract manufacturing to the Eastern Cape are taking shape with the recent revamp and launch of the Vulindlela Heights Industrial Park in Mthatha.
To develop industrial activity in the area, the Department of Trade and Industry (the dti) recently injected R22- million into upgrading the Vulindlela Heights site, which falls under the King Sabata Dalindyebo Local Municipality.
It is one of a number of parks the dti has recently upgraded across South Africa, with a total investment of R189- million.
At the launch of the Vulindlela Heights site, Sipho Zikode, Deputy Director-General of Special Economic Zones and Economic Transformation at the dti, said the R22 million investment was to create an enabling environment for entrepreneurship to thrive.
He called on entrepreneurs to take advantage of the new infrastructure and put their efforts into manufacturing.
"While government is providing the infrastructure, businesspeople must stand up, roll up their sleeves and work hard," said Zikode.
The revitalisation of Vulindlela Heights was part of efforts to decentralise industrial activity, so as to deepen and strengthen South Africa's industrial base.
"The purpose of the programme is to upgrade the country's state-owned industrial parks in order for them to contribute in growing the country's economy and creating jobs," said Zikode.
Significant milestone
Vulindlela's tenant mix includes manufacturers and other businesses supplying products and services to the local market. It currently employs 866 people, full time.
Richard Mnqokoyi, director of local economic development at King Sabata Dalindyebo Local Municipality, welcomed the dti's contribution.
"This marks a significant milestone in our plans to grow the economy of Mthatha," Mnqokoyi said.
"The objective of the initiative is to increase the capacity of the park as an industrial hub, thereby attracting more investments which will create employment and boost our economy."
Over 100 jobs were created during the upgrade, which included the construction of a boundary fence and roads, and the installation of a waste skip structure, CCTV system and electrical infrastructure.
Special Economic Zone
"As an industrial park, Vulindlela is a beehive of economic activity as there are many big companies and small enterprises that are located in the park and are doing business," said Mnqokoyi.
"But we would like to reposition it to be part of the Special Economic Zone (SEZ) that is planned for Mthatha and make vacant space in the park available for more investments."
SEZs are areas designated for targeted economic activities, so as to attract investors. They are supported by government with incentives, infrastructure and systems.
Buhle Dlulane, CEO of the Eastern Cape Development Corporation, said the launch of the park brought hope to the community.
"The park currently has 87 per cent occupancy," Dlulane said. "The more occupants it attracts, the more jobs it will create and the tax base will increase.
"It is important to broaden the scope to attract investors, diversify the economy that will be able to carry us even when times are tough. This creates jobs and addresses the high level of poverty and inequality in the region."