Youth
Working with police and health services, the 55 Thuthuzela Care Centres across South Africa give specialised services and support to the survivors of sexual violence, and help them find justice in court.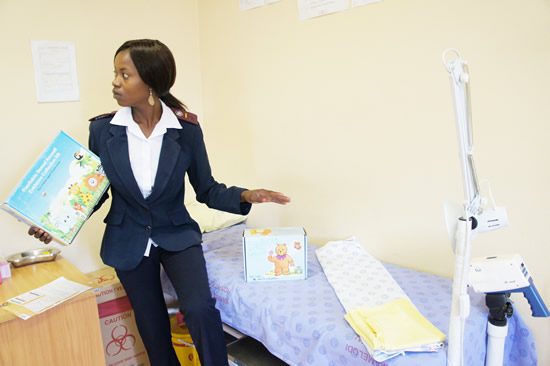 Thuthuzela means comfort in isiXhosa. In communities across South Africa, Thuthuzela Care Centres offer comfort, medical care, access to the legal system and counselling for survivors of sexual violence.
The centres are a partnership between donors and government departments under the leadership of the National Prosecuting Authority's Sexual Offences and Community Affairs Unit (Soca).
Thuthuzela centres are a critical tool in government's integrated strategy to combat sexual violence. The centres link police stations with clinics and hospitals and the re-established sexual offences courts.
But the Thuthuzela centres' most important role is to support victims. The philosophy is respect, comfort, restoring dignity and ensuring justice for children and women who are victims of sexual violence.
Restoring dignity
Reporting a rape can be terrifying and overwhelming. Under government's new strategy, victims are given privacy at police stations in rooms reserved for them. There they can quietly wait for an ambulance to take them to a Thuthuzela Care Centre, which is usually at a clinic or hospital.
Trained counsellors are with the victim the whole time – at the police station and in the ambulance. At the Thuthuzela centre they are met by a social worker who explains the next steps. These are a visit to the doctor, a shower and change of clothes, and a statement to a trained special victims police officer.
While the victim is giving a statement, the doctor prescribes and dispenses medication – including emergency contraceptives and antiretrovirals – and sets up an appointment for a return visit. Once the process is complete, the counsellor takes the victim home, or to a place of safety.
"Service providers are available to a rape survivor in one location, rather than her being shuttled around throughout the criminal justice system," says Advocate Thoko Majokweni, director of Soca.
Child victims
When doctors at Thuthuzela Centres began reporting an increase in young victims they approached Unicef, an international children's NGO, for help.
Unicef helps train child-friendly nurses and caregivers, and provides specialised services to prepare children for court. They also helped fund the revamp of children's areas at the centres.
"The idea is to ensure a child-friendly environment right from the start – from the crime-reporting stage all the way through to the provision of follow-up victim support services," said Unicef child protection specialist Patrizia Benvenuti.
Improving conviction rates
Very few – as low as 4 per cent – of reported rapes lead to successful convictions. One reason for this is that victims find the trial process frightening. To make trials less intimidating, Thuthuzela staff, prosecutors, investigating officers and social workers are assigned to special Sexual Offences Courts.
The courts "are a critical part of South Africa's anti-rape strategy, aiming to reduce secondary trauma for the victim, improve perpetrator conviction rates and reduce the lead time for finalising cases," says Advocate Majokweni.
Communities lucky enough to have Thuthuzela centres – government is building more – have seen an increase in victims reporting rape, and conviction rates have gone up.
"A sign of hope and comfort." That's how one rape survivor described the Thuthuzela centre where she received help.
Services offered at Thuthuzela Centres
Comfort from a coordinator or nurse who will explain the medical procedures and what clothing will be taken as evidence.

Medical consent forms are explained.

A nurse will accompany victims throughout the procedure.

A bath or shower after evidence is collected, and fresh clothing will be provided.

The investigating officer stationed at the centre will take a statement.

Nurses or social worker will offer counselling.

Medication is prescribed.

A follow-up medical appointment is scheduled.

A referral for long-term counselling is provided.

Survivors are given rides home or to a place of safety.

Consultation with a specialist prosecutor before the case goes to court.

An explanation of the verdict after the trial.
Report sexual violence
In light of the heightened awareness of crimes against women and girls, government has set up a Gender Based Violence Command Centre. You can call 0800 428 428 or send a "please call me" to *120*7867#