Focus on youth
Nneile Nkholise is a young engineer using her knowledge to make the world better for breast cancer survivors – work that has earned her this year's NYDA President's Award.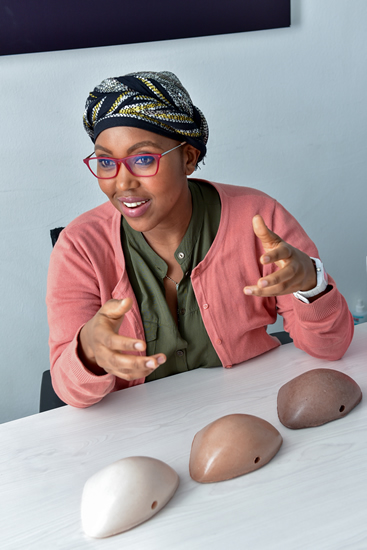 Nneile Nkholise wanted to follow her brother into journalism. Her mother believed she should be an engineer instead.
Fortunately the young woman listened to her mother and chose mechanical engineering, which spoke to her artist's soul. "I wanted to carve a new path for myself and be a design engineer because I was creative and wanted to explore that side of engineering."
As she began to study she started understandiZng there was more to the profession than meets the eye. "It's not just about cars or production."
Finding purpose
After graduating from the Central University of Technology she founded iMed Tech, a company that commercialises her research into additive manufacturing in medicine.
The company, currently incubated at the Innovation Hub, manufactures prosthetics for women who have survived breast cancer.
Nkholise found her path in life during a class discussion on how additives could improve the production of facial prosthetics. While the men in her class discussed facial prosthetics, she realised the discussion could easily include breasts.
"Being a woman, and seeing so many women losing breasts because of cancer, I said someone needs to answer that."
Innovation
Nkholise has built her business on her need to help women who are unable to afford breast reconstruction after a mastectomy. "When someone has undergone mastectomy, the option that person would have is breast reconstruction, and that is very expensive. It can go over R120 000."
In the beginning Nkholise designed and manufactured a simple prosthetic that had the feel of a real breast. The idea was to give women something they could wear over their scars. Now she is testing a new idea in response to client requests – a prosthetic with a magnet implant. "You can run and jump without it falling and those who use it can go to gym while it is still attached to their body."
Opportunities for women
Nkholise encourages other young women to consider careers in engineering. Part of her vision for iMed is to employ as many women as possible. She sees this as a way to introduce them to engineering, and to empower them.
Her belief stems from research by the World Economic Forum on the gender gap. It found that young women, especially African women, do not have access to many opportunities.
"I was, in my little way, trying to create opportunities for young women and I believe that I have a responsibility to skill as many young people as I can."