Learners from trust villages near Thaba 'Nchu used to have to travel up to 70 kilometres to get to their farm school. Now a new hostel is changing their lives, and their education.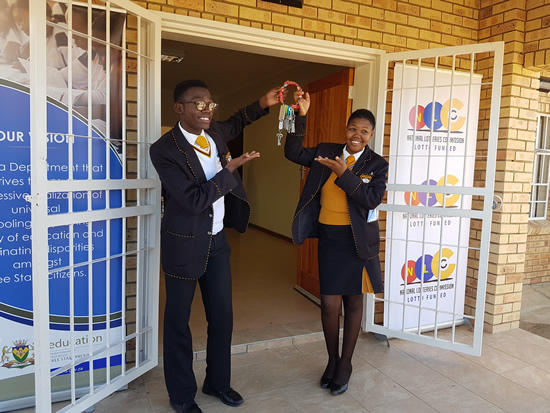 Sediti Secondary School near Thaba 'Nchu, deep in the rural hinterland of the Free State, is difficult to get to.
A "farm school" serving 23 trust villages, many of its 500 learners had to travel distances of 16 to 70 kilometres to get there.
Now, thanks the Free State Department of Education, Kagiso Trust and the National Lotteries Commission (NLC), their lives have become a bit easier. A hostel for some 300 learners has been built at the school.
The hostel will mainly house Grade 12 learners, with the rest of the rooms going to the learners who live furthest from the school.
The NLC granted R15-million towards building the hostel, and the Free State Department of Education R30-million. The department has already built 36 hostels at farm schools across the province.
Closing the gap
Education MEC Tate Makgoe said the hostel was an educational investment in the rural community.
"No country has ever been successful without education," he said. "Education is the only weapon to fight unemployment and change our communities."
He told the learners they should know they could start as a farm school learner and end up being a president, a doctor or an engineer.
Farm schools were a priority, MEC Makgoe said, because their standard of education was historically poor.
"We are closing the gap between the child who goes to school in town and on the farms because we want to make sure that every child has access to good quality education."
Top matriculants
The school's principal, Maleshwane Mohapi, said the hostel would boost learning. "These facilities will help our children greatly, and they will improve the learners' performances."
The NLC's Charlotte Mampane pointed out that while the school was virtually in the middle of nowhere, two of the Free State's top matriculants came from Sediti Secondary. The hostel, she said, would ensure "the restoration of human dignity".
Twenty-five people from surrounding villages have been employed at the hostel to help learners with laundry, guidance and support while they are far from home.
Mpho Motlhabane, a former learner at the school, is being employed as the hostel's housekeeping supervisor.
"I am going to do my best to motivate the youngsters, as I know this road that
they are travelling on," she said.