Isolated for 200 years, the fishing community from the island village of Enkoveni in KwaZulu-Natal can now safely cross crocodile-infested waters to get to school and economic opportunities, thanks to a new ferry.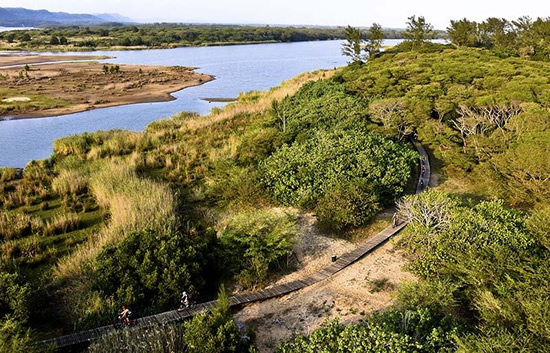 The village of Enkoveni is a community of 80 homesteads, and a primary school. It lies on an island in the far north of KwaZulu-Natal, inside the iSimangaliso Wetland Park – South Africa's first Unesco World Heritage Site.
For 200 years, people from this fishing community wanting to get to the mainland had to brave waters infested with crocodiles and hippos.
"My father and his father both lived on that island," says Lindani Ngubane. "They were catching fish and selling it here before anyone even knew this place existed." Ngubane works for the Masifundise Development Trust, an organisation that helps fight for the rights of local fishermen.
Today, the journey across the water is safe.
A brand new ferry means children from the mainland attending primary school on the island, and students travelling in the opposite direction to the nearest high school, can cross the bay without fear of being attacked.
Ferry brings jobs
The petrol-powered ferry is run every day by skippers trained at the KwaZulu-Natal Sharks Board Maritime Centre of Excellence. The eight skippers – four women and four men – are all previously unemployed youth from the community. They are now responsible for operating and managing the boats.
The initiative comes out of the South African Maritime Safety Authority's Umhlabuyalingana Outreach Project. This aims to bring immediate and long-term relief to the community.
They have been joined by the KwaZulu-Natal Department of Education, the national Department of Transport and a host of private sector partners.
The beginning of development
Being isolated should not prevent a child from getting an education, KwaZulu-Natal Education MEC Mthandeni Dlungwane said at the handover of the ferry.
"We see the difficulty these children face every day. There are hippos in the lake. It is for this reason that we are trying. This is a government for the people by the people," Dlungwane said.
The island community hopes the ferry is the beginning of the development of the area. They would like government to build a bridge as well, and connect them to the national power grid.
Speaking at the handover, Deputy Minister of Transport Sindisiwe Chikunga said the responsibility of filling all the community's needs fell across different ministries.
"We think this is a community that has potential," Chikunga said. "This lake has fish. They can sell it. We need to bring other departments here to see how we can help further."