Young South Africans have an important role to play in South Africa's tourism industry. Government programmes are helping the youth build their own tourism businesses.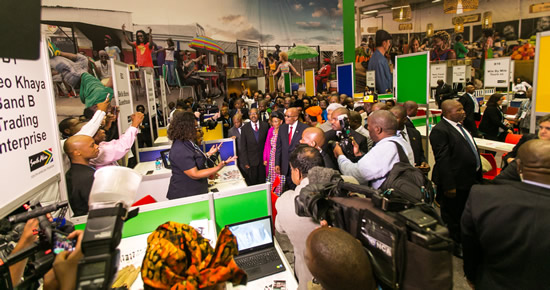 At the recent opening of the 2017 Tourism Indaba in Durban, President Jacob Zuma talked of the opportunities for young South African entrepreneurs as the industry continued to grow.
South Africa had a 13 per cent increase in visitors last year, he said, making tourism a sector of the economy that could change people's lives.
"In addition to job creation, tourism also provides opportunities for entrepreneurship. Given the low barriers to entry, it makes it possible for new entrants, particularly women and the youth, to get into business."
Opportunities for young tourism entrepreneurs will open up when government rolls out its new 5 In 5 Tourism Growth Strategy. The plan will target new markets in Asia and the Middle East. It aims to increase the number of tourists visiting the country by five million in the next five years.
In line with government's policy of radical economic transformation, South African Tourism will give black entrepreneurs the opportunity to showcase their businesses at trade shows and expos.
"We are looking to achieve at least a 30 per cent black ownership of the tourism industry," the President said. "We have already begun to invest in transformation. At this year's Indaba, we have 90 black-owned tourism businesses from all nine provinces in South Africa, offering authentically South African tourism products, services and experiences."
Tourism is opportunity
South Africa's youth need to believe they have what it takes to start and run a business before approaching government for help, according to Minister of Tourism Tokozile Xasa.
Her ministry already has programmes to help new entrepreneurs put together business plans. But it was not looking for haphazard growth, Minister Xasa said at the recent Local Government Tourism Conference.
"We want sustainable growth that creates more opportunities for black people, especially people in rural areas, and for women, the youth and people living with disabilities. We want growth in tourism to lead to economic and social transformation for our country."
She said all South Africans were partners in ensuring tourism became one of the more important and growing sectors of the economy.
"Tourism is a half-exposed treasure chest. The lid is half-opened and not many of our people can get to the jewels. If we all work together, we can prise that lid open, so that the benefits of tourism, and the natural and cultural heritage of our country, can be shared by all the people in our country."
Supporting enterprises
Government has created multiple programmes to make it easier for previously disadvantaged entrepreneurs to enter the tourism sector and grow existing businesses.
The tourism department recently launched a new Enterprise Development Programme. This provides incubators to small businesses at strategic tourism nodes, a tourism information portal to bridge the information gap between entrepreneurs and business opportunities, as well as business development and market access support to 300 enterprises countrywide.
"The incubator enables enterprises to obtain business support services offered mainly from the location of their businesses," Minister Xasa said.
Also, in 2014 the Women in Tourism Forum was launched to address the challenges faced by women, in an industry where most women work in low-level jobs. In 2016 the department launched the Executive Development Programme to complement the 2014 programme.
Both initiatives are designed to build black women's leadership and business skills. The department also gave 20 young women full scholarships to study at Unisa's School of Business Leadership.
The minister has acknowledged the myth of employment in the tourism industry – "hard labour, overwork and low pay". To dispel this myth and open the sector for more entrepreneurial black youth, government will focus on creating more opportunities for youth, training them, and encouraging them to find their place in the industry.
Tourism is an opportunity for youth to show their love of South Africa – its natural beauty and diversity, spectacular scenery and warm beaches. A new generation of young entrepreneurs can now promote their country to the world.