Focus on youth
Bored with his job and depressed by the poverty and unemployment he saw around him in Kimberley's Galeshewe township in the Northern Cape, 25 year-old Edward Boitumelo Matlwane needed a new start.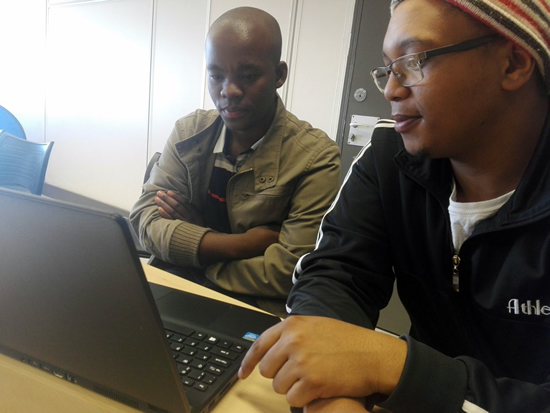 "Every day, I did the same thing. I could not take it anymore. I felt old," he said.
So Matlwane quit a job he had held for over four years. He wasn't sure what exactly he wanted to do, but he had always had a passion to become an entrepreneur.
He spent a year doing research, and realised along the way that he knew nothing about entrepreneurship. He had reached a stalemate.
To his dismay, it became clear that the people he approached for help were also clueless about entrepreneurship. There was no-one to mentor him.
Right there, Matiwane had a light-bulb moment. He saw the opportunity of starting an entrepreneurship hub, to create a culture of entrepreneurship in his community.
Along with five friends who shared his vision, Matlwane registered a non-profit organisation – and the Diamond Creative Vision Hub was born.
Building leadership
Today, the organisation is staffed by academics, students and professionals from diverse fields but with a common passion for youth entrepreneurship.
The aim is to create a mindset of entrepreneurship and wealth creation among the youth by offering unique insights into the qualities that drive successful leaders.
The hub teaches a number of different courses. One is the Entrepreneur Development Programme, a simplified masters in business administration, or MBA.
They took MBA curriculum material donated by the University of the Free State and broke it down to its simplest form to create a training course for young people.
Another is the Entrepreneurs in the Classroom course, which teaches business skills to learners from schools in the area.
Working with government
The Diamond Creative Vision Hub also advises local government. Matlwane and his partners are part of the Frances Baard district municipality's small, medium and micro enterprise (SMME) development committee. 
They also have partnership agreements with the National Youth Development Agency  and the Small Enterprise Finance Agency.
Matlwane's experience allows him to spot business opportunities in even the poorest communities.
Recently, he visited a small community of Schmidtsdrift, 80 kilometres west of Kimberley. He now has a five-year contract to provide entrepreneurship programmes there.
"Our job is to develop the rural community into a self-sustained community," he said.
"We are going to do that by using their natural resources, the land, river and the fact that the place is rich with diamonds."
Matlwane's ultimate goal is to create wealth among black township youth, to break the chain of inter-generational poverty.