Written by Chris Bathembu
Cynthia Ncapayi of Port Elizabeth, Eastern Cape, was shocked when her water bill showed that she owed more than R70 000. Ncapayi is a single mother who earns less than R200 000 a year. She knew that her two children could not have raked in a bill that high considering that she doesn't even own a geyser, shower or a bath tub.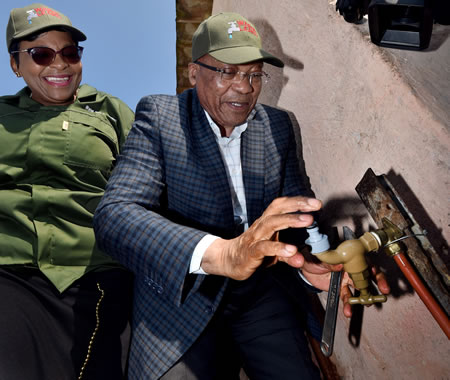 Upon investigation, it was discovered that Ncapayi was a victim of water leaks that have become a problem in many South African townships. Many of her neighbours have reported huge water bills in recent months and these were linked to leaking water pipes and broken taps. 
Every year, South Africa loses about R7 billion due to water leaks and such losses cost the country. This is water that could be used by millions of households who do not have access to basic services such as water and sanitation.
But a new water saving programme approved by Cabinet is expected to save the country millions of litres of water that go to wastage.  President Jacob Zuma launched the War on Leaks programme in Port Elizabeth recently and this will see 15 000 artisans, water agents and plumbers fixing leaking taps and pipes in their respective communities as part of promoting water conservation.
The programme is expected to run over a five-year period and 15 000 unemployed youth will be trained within three disciplines, namely water agents, artisans and plumbers. This is to ensure that South Africa's Water and Sanitation Sector will be equipped with a competent number of skills and capacity to minimise water losses in the country.
Water and Sanitation Minister Nomvula Mokonyane has already appointed Rand Water to implement the War on Leaks project.
"In his State of the Nation Address, the President raised concern about the annual more than R7 billion worth of water that the country loses due to aged infrastructure to a leaking tap. We also have unaccounted water that can't be quantified. He then called on the department to come with interventions," Minister Mokonyane said.
"The War on Leaks Programme will not only save us water but will provide thousands of young South Africans with sustainable job opportunities in the form of artisans, plumbers and water brigades that will work within municipalities that have been identified," she said.
The training will be done in phases with phase one expected to recruit about 3 000 young people followed by 5 000 during phase two learners and 7 000 learners will be trained during phase three in 2017/18 financial year.
Speaking in Port Elizabeth, where the programme was officially launched, President Zuma said the water brigades will do repairs, retrofitting and replacements. They will be placed in municipalities across the country.
"Our key message to you is that we must save water. Water is not unlimited. If we do not look after it, we will lose it. We all see water leaking all over the streets and in our homes through dripping taps and pipes.
"These losses also occur in various forms such as underground infrastructure, faulty and poorly maintained equipment and ageing infrastructure," the President said.
Municipalities are also already working on big projects of refurbishing the infrastructure especially the leaking pipes. The War on Leaks project will boost what the Department of Water and Sanitation as well as municipalities are busy with, to rebuild the broken pipes and other infrastructure, he said.
Government has set aside about R680 million in the current financial year.
Minister Mokonyane said 27 district municipalities in the country were in a dire state in terms of water capacity.
"Working together with the water boards, we will train youngsters, give them accreditation through SETAs and they will be attached to our different water boards, that will help us with capacity," she said.
She added that many young people will also be placed in district municipalities where interventions are needed.
Nelson Mandela Bay Mayor Danny Jordan said the Nelson Mandela Metro, which includes Port Elizabeth, Uitenhage and Despatch municipalities, was a water scarce region.
"We have a very serious challenge, it is for this reason that we took a decision to invest more to secure water as a key resource for this metro. We are very happy that the President is here to launch this war," Jordan said.
"In our area as a metro, we must address the question of water leaks. The many high bills people have for water are not as result of their use of water but the inability of the municipality to tackle water leaks," he said.