The Department of Health has made it easier for young people to make informed decisions about their health.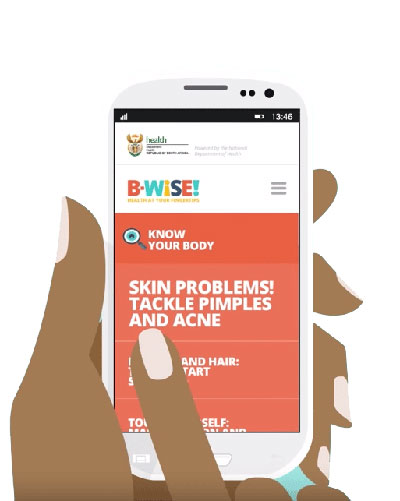 Health Minister Aaron Motsoaledi recently launched B-Wise, a mobisite that provides young South Africans with the information, tools and support they need to live healthier lives. The site will give young people an opportunity to access health information on various topics, such as sexual, reproductive and mental health, substance abuse and other social issues. In May, Minister Motsoaledi announced that his department would be launching the mobisite and called for entries from young people to give it a name.
Tshepo Mofokeng, 22, from Qwaqwa in the Free State, proposed the name B-Wise, which won the competition. Minister Motsoaledi handed over the prize, an iPad, to him. When asked how he came up with the name, he said he had five different names and then asked people for their views. "For me it was not just about the name, it was about helping the youth, especially those with addiction problems. I felt I should play a role in helping them," he said.
"I felt I should come up with something that young people cannot forget easily."
Speaking during the launch, Minister Motsoaledi said his department was determined to communicate with young people. "We want to ensure that our young people make informed decisions to develop their bodies and minds," the Minister said. The youth can access the site by visiting https://b-wise.mobi/english and can read factual information, view real stories from other young people and participate in polls.
During the allocated live chat hours, users will be able to chat with a range of experts such as psychologists, nutritionists and general practitioners. Young people are also able to use the mobisite to communicate directly with the Minister about problems they face on a daily basis. B-Wise is available in English and isiZulu and will have more South African languages added in future. The site is managed by the Department of Health and is accessed via an internet-enabled mobile phone. Users have to register on the site. Thandeka Maponya, 19, from Soshanguve Block TT said the mobisite would put her in touch with information about health issues. "I will also use the site to communicate with other young people about healthy lifestyles and we can advise each other on problems we are encountering," she said. The mobisite targets people between the ages of 10-14, 15-19 and 20-24.
Connecting pregnant women with MomConnect
The number of pregnant women using MomConnect, an app that provides information and advice on pregnancy and serves as a channel to notify the department about poor service, has increased since its launch last year.
Minister Motsoaledi said about 50 000 women had used MomConnect and appealed to the department to provide them with additional information about pregnancy and breastfeeding. The app enables users to leave complaints or compliments.
How women can connect to momconnect
Dial *134 *550# or reply to any SMS sent by MomConnect.
You will then receive an SMS response from the helpdesk.
HIV Clinical Guidelines App for health professionals
The Department of Health also partnered with Metropolitan Health to launch the Metropolitan Health HIV Clinical Guidelines App, as part of a national campaign to scale up HIV treatment. The HIV Clinical Guide App serves as a comprehensive HIV treatment guideline for all levels of healthcare professionals. The app is expected to be rolled out to healthcare professionals across the country, with an emphasis on rural areas.
How to access the app
The free app can be accessed in the Google Play Store and downloaded to your android-enabled mobile phone (download costs apply). Search for HIV clinical guideline: Metropolitan Health.