Written by Noluthando Mkhize
Youth matters
Thato Kgatlhanye is one of those young people who believes in doing business with a purpose.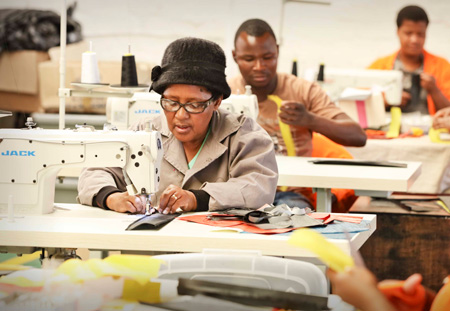 She owns Rethaka, which is a company that produces solar powered school bags known as Repurpose Schoolbags for children living in homes that do not have electricity.
"I am a social entrepreneur, I am money and business-driven, and I am empathetic towards people."
Rethaka, comes from the Sotho word 'Re dithaka' and means we are all on a equal level. 
Kgatlhanye, 22, comes Mogwase, just outside Sun City in the North West.
She started her business with a group of friends in 2011 after completing matric while pursuing the ideas of becoming entrepreneurs.
"We had no idea what we wanted to do with the business, we just registered it. All we wanted to do was to be involved in business. We left it at that and went to university. We were 18 years at the time."
During her university years she said she was given an assignment of creating a bag from a plastic bag.
"I thought how do I push the idea and make it more than just a school bag. I knew that children lived in homes without electricity and I wanted to come up with something to change this."
Kgatlhanye, who holds a degree in brand management from Vega School of Brand Leadership, said this sparked the idea to create a solar powered school bag.
To raise start-up funding for the business, Kgatlhanye entered the South African Breweries Foundation Innovation Award and got a business grant of R300 000.
"We also got the Anazish Prize and where given about $15 000.
The late Minister of Public Service Collins Chabane also honoured the company with a special ministerial award last year he gave us R15 000. He heard about us but I do not know how."
The Anzisha Prize seeks to award young entrepreneurs who have developed and implemented innovative solutions to social challenges or started successful businesses within their communities in Africa.
Creating a solar powered school bag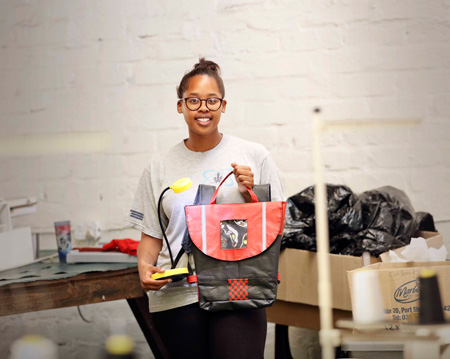 A child receives a package, which consists of a solar panel, lamp, and the school bag made from recycled plastic.
Kgatlhanye explained that all the bags are made from plastic bags. Once the manufacturing of every school bag has been completed there is a small solar panel inserted at the back of the bag.
"So as the child is walking to school the solar panel is being charged. When they get home, they take the panel out and insert it into a desk lamp integrating the two. The lamp has a switch that the child presses and the lamp lights-up generating electricity from the solar panel."
Rethaka outsources the solar panels since Kgatlhanye does not have the skills to manufacture her own solar panels but it is something she said the company was working on as it grows. 
"It's very exciting to be part of the circular economy."
"We use waste and we are part of the few companies in Africa leading the circular economy finding ways to close the loop and turning waste into worth, which is a different way of thinking and a different way of doing business."
"A previous business model would have been to get a raw material and produce something but we are taking waste and turning it into something valuable."
Rethaka's giving partners
Kgatlhanye said her company is not a non-profitable organisation but she sees it as social entrepreneurship.
When it comes to selling the school bags, which cost R250 per bag, she approaches sponsorship from companies, which she has termed giving partners.
"We don't sell the bags to school. We sell them to corporates or individuals. We don't call them clients we have termed them giving partners. They purchase on behalf of the children."
"Our giving partners are the ones that do the donating. A company would do it as part of their corporate social investment programme. Other companies buy conference bags and for every conference bag that they buy they also buy a school bag for a child."
"We don't donate the bags we just make them and get our giving partners to buy and hand them over to schools."
On average Rethaka makes about 30 bags a day manufactured by a staff that consists of 15 permanent employees in production and three people who handle the day to day running of the business and three casual workers who collect the plastic bags at land refill sites.
"We work as a team and I have good people that work for me. Even though I am younger than almost all of them but they are good people to work with and we leave our ages at the door."
Rethaka reaching across Africa
She said her company had received positive feedback and were now distributing to other countries on the African continent such as Namibia and Mozambique.
"The bag has been received well because children who were using a plastic bag or carried their books underneath their arm now have a school bag. The school bag is also water proof which means their books don't get wet when it rains."
"For a child that has never had a school bag getting this type of bag is a big deal.
It goes a long way in giving a child dignity and knowing that when they get home they will be able to do their homework." 
"Our bag is meeting basic and necessary key things that children need. Another thing is that on every bag there are two reflector strips so that the children are visible to motorists if they walk in the dark." 
Plans for the future
She said as part of her company's plans for the future she was in the process of developing luxury bags.
"We want to go commercial creating this luxury bags and exporting overseas. For every bag that is brought we will donate a repurpose school bag to a school child."
Kgatlhanye said any young person could contribute to creating jobs and starting business just like she did.
"It takes hard work and someone to dream to a goal that is actionable. Dream in detail know what you want. You become intentional about yourself."
"Don't forget to develop a product that will make lives of people easier. My product is gifting with a purpose it's lighter on the environment, it creates jobs and changing a child's life."