President Jacob Zuma recently addressed diplomats, ambassadors and South African-based high commissioners and members of the media on South Africa's foreign policy.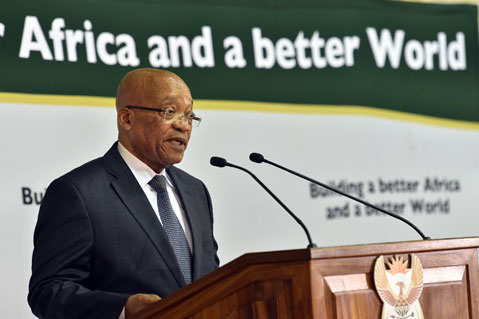 In the interests of building a better Africa and world, the President touched on different issues, including the promotion of human rights and democracy; justice and international law, in the conduct of relations between nations; the promotion of the African Agenda in world affairs; and economic development, through regional and international cooperation in an interdependent world.
Striving for peace in africa
Deputy President Cyril Ramaphosa will continue to represent South Africa to help South Sudan find peace. For the past few years South Sudan has been involved in conflict, which has resulted in the massive displacement of people and led to a humanitarian crisis. President Jacob Zuma said that South Africa would continue to send Ramaphosa to work with all affected parties to find solutions.
"We note and commend the peace efforts led by the Intergovernmental Authority on Development and commend all parties for signing the Compromise Agreement," said Zuma. The agreement provides the basis for transitional authority and is an important beginning towards resolving conflict. "We therefore call on all parties to honour and respect the agreement so the country can move forward," he said.
President Zuma also said that the ongoing conflicts in other African countries were a concern to South Africa, as they bring instability to many parts of the continent. "We condemn, in the strongest terms, the various terrorist acts committed by groups in Somalia, Kenya, north eastern Nigeria, Mali, the larger Sahel and north Africa."
South Africa will, through the AU Peace and Security Council, help the affected regions. "With regards to Burundi, we urge the east Africa community, through mediator Uganda's President Yoweri Museveni, to continue with political dialogue to find a lasting solution."
The signing of the Malian Peace and Reconciliation Agreement is a step in the right direction to finding lasting peace between the warring factions on Mali. "We reiterate our support for the signing of the Malian Peace and Reconciliation Agreement in May this year by the Malian Government, the Algiers Platform Movement and some groups of the Coordination Movement of the Azawad."
South Africa stands ready to help the people of Libya in reconstructing and developing their country. President Zuma said that the country is willing to help with its experience in reconciliation and the constitution-making process.
Upcoming international engagements
South Africa will participate in the following international forums over the next few months:

G20 Forum in Turkey, 15-16 November 2015.  

The Third India Africa Forum Summit, 25-26 October 2015.

The Second Summit of the Forum on China-Africa Cooperation, in Johannesburg, December 2015.