Written by Noluthando Mkhize
There is a growing number of South African youth finding solutions to address the social ills they face daily.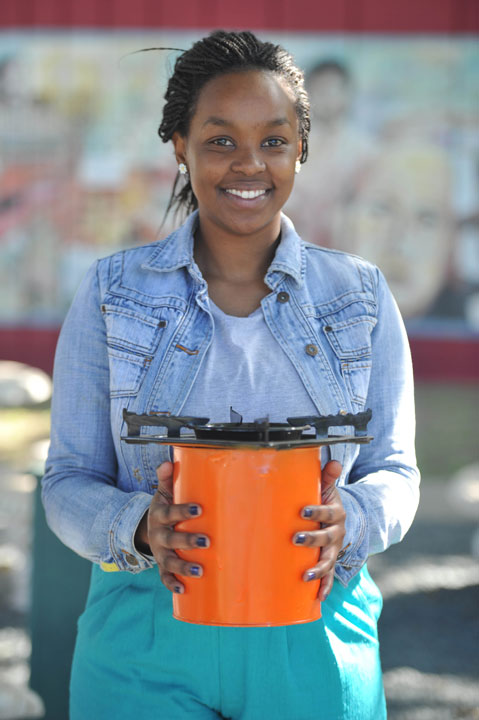 One is Luthando Msomi, 23, from Umlazi in Durban, KwaZulu-Natal. Msomi has come up with the idea of portable cookware, which is an alternative to the open fire system and does not use gas or electricity.
The cookware makes use of firewood only to retain the cooking flame and ensures that it's retained securely. "I realised that people living in informal settlements make use of the open fire system, which is unsafe. During winter there are incidents of shacks burning down which, in some cases, is caused by the open fire system."
"I wanted to find a solution for African problems. I thought perhaps I could develop a stove. This is how my concept was born." With South Africa experiencing energy challenges, Msomi said it's up to all South Africans, and the youth in particular, to find solutions. Her portable cooking concept is an alternative during load shedding. The cookware was adapted from an existing concept, however, the difference is that it does not use gas. "Other models similar to the cookware are high tech. I wanted to look at a simpler concept that would work for South Africans."
The idea to invent the stove came about in 2013, under Msomi's business Iziko enterprises. "The stove is made from a five litre paint can, with a steel chamber welded into it. We put wood into the paint can to start a fire. The fire and the smoke move upwards, making it safer because the fire is contained in the can. The pot sits on top of the can." Msomi, who is a communications officer at the University of KwaZulu-Natal's (UKZN) Corporate Relations Division and a former student at the institution, says she received a lot of help from departments within the university to create the stove.
"I consulted with students from the engineering and other departments within UKZN who helped develop the cookware into an actual product." Once the cookware was developed Msomi started selling the product at R120 each.
"This was done at the early stages of developing the cookware. I wanted to test the market to see if people would buy it. It was received very well. We went to chain stores as well to check if they would consider having our product on their shelves and we received positive feedback." Msomi is also the winner of Ithala Banks's 2014/15 Inkunzi Isematholeni Youth in Business Competition. Ithala Bank is an entity of the provincial government.
"I was shocked that I won the competition. When starting the business I never looked at profits. It was about the fact that we had a problem and how fix it. Now I am learning about its profitability, which is really exciting." She said she was still developing the cookware, investigating whether the stove had any health hazards and trying to get her product approved by the South African Bureau of Standards.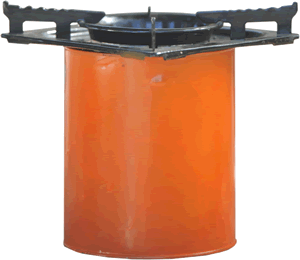 Thuli Galelekile, the divisional manager of communications and marketing at Ithala Bank, said Msomi would be assisted with a feasibility study, business plan development and funding the business idea. "The Inkunzi Isematholeni Youth in Business Competition is an initiative which we believe can kick-start entrepreneurship among young people. It is a project that has begun to address innovative business thinking among the unemployed youth in terms of its focus on new concepts in green economies."
Msomi said her plans for the future include venturing into social and profitable entrepreneurship on a full-time basis. "Right now I am trying to accumulate capital and find a business mentor. Energy saving is at the forefront for South Africa. It's important to save energy and find solutions in energy methods in green economies," she added.
Safety First
As the country looks to other alternatives for cooking or keeping their homes warm to save energy, Vuk'uzenzele brings you some tips to keep safe when using paraffin and/or gas.
When using paraffin:
Always handle paraffin with extreme care, as it is poisonous and can burn your skin even if unlit.
Never leave a paraffin appliance unattended. It only takes a second for a gust of wind, pet or child to knock over a light or stove.
Make sure paraffin appliances are on a flat, firm surface.
Do not put a cloth under a paraffin appliance. A child or pet could pull the trailing end and the cloth will then burn, fuelling the fire.
Always have a bucket of sand nearby when using a paraffin appliance. Water will not extinguish a paraffin fire and can make matters worse by spreading the flames.
How to handle gas safely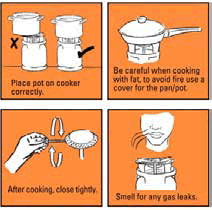 Source: www.total.co.za