A bursary from the South African National Roads Agency Limited (SANRAL) has meant the realisation of a dream for young engineer Gideon Machete.
Now that he has graduated, he has been given a boost to his career on a safe journey ahead. Machete is one of 11 at SANRAL's Centre of Excellence design academy this year, the second since its inception in January 2014. SANRAL bursary graduates from around the country benefit from the centre's formal in-house programme, which was established to facilitate and advance their careers by providing experience on real projects. Next year SANRAL plans for an intake of 27 candidates, based on the number of its expected graduating bursary holders.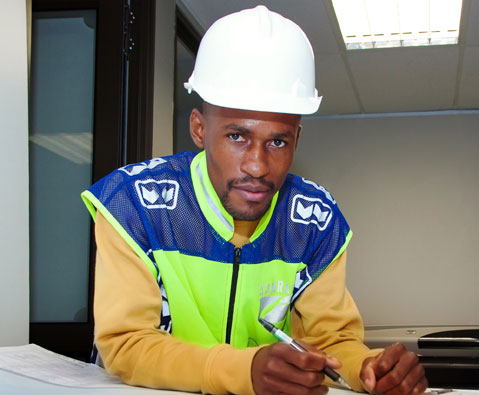 SANRAL Southern Region (SR) Regional Manager Mbulelo Peterson said the structured training programme added substantial value to the parastatal's commitment to the Engineering Council of South Africa (ECSA), to which SANRAL is an accredited commissioning and undertaking provider. ECSA's primary role is the regulation of the engineering profession and registration of qualifying professionals.
Graduates at the Centre of Excellence have successfully attained BSc Civil Engineering degrees with the complete support of SANRAL's bursary scheme.  It is a four-year course, but that is not where it ends for these hard working graduates. SANRAL's programme facilitates work that will build up the experiences, competencies and proficiencies they need in order to qualify for ECSA's stringent professional standards.
Graduates remain at the design academy, which is housed in SANRAL SR's offices in Newton Park, for 12 to 18 months, depending on their previous field experience. After completing the programme, they proceed to construction sites or to gain further experience in SANRAL projects around the country. "Ideally, they should complete four years' training after their studies. They need to be able to prove that they can operate in the field as professional engineers," said Kelly.
"The first gate then is ECSA registration and doors will then open for them, depending on employment opportunities available at SANRAL at the time. Our programme is aimed at getting their responsibilities and competencies right."
Originally from Moleketla Village in Tzaneen, Machete is a SANRAL head office bursary recipient. He studied at the University of Pretoria.
"I matriculated in 2005 but could not afford to pay for my studies. I spent the most part of 2006 working as a painter in Tzaneen to earn a living, so I am very grateful to SANRAL for making this possible. Education is important to me because it opens doors and opportunities," the young engineer said.
The training at SANRAL includes geometric design, traffic analysis and capacity, materials investigation and utilisation, pavement evaluations and more. Some of the hands-on engineering projects Machete is currently working on are the upgrade of the R75 road from Jansenville to Graaff-Reinet, which is being designed by the academy, and the maintenance of provincial gravel roads in the Eastern Cape.
For more information call: 041 398 3216