It could be a cellphone charger, a kettle or a stove that is left powerless when the lights go out.
Or it could be life-saving medical equipment.
Cable thieves don't care.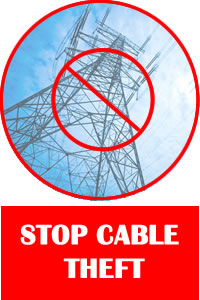 Neither do they give residents notice in advance when they decide to dig into the earth and rip out cables that bring the comfort of electricity or the convenience of telecommunications to communities.
Cable thieves do not discriminate between rich and poor, urban or rural. They are
ruthless breakers of the law whose only mission is making money from the discomfort of others.
In the process, they destroy valuable infrastructure that brings critical services to residents and businesses; infrastructure that supports our economy and the millions of jobs attached to public infrastructure and the activities of business in the private sector.
We cannot allow the cable-theft syndicate chiefs or the runners who risk their lives and imprisonment by doing the dirty work, often under cover of darkness, to hold our economy or our communities to ransom.
Just recently, I briefed the nation on exciting developments in the development of our country's infrastructure.
Around the time we launched Unit 6 of Medupi power station in Limpopo, the R2 billion Kouga wind-farm in the Eastern Cape was officially opened. This project will provide renewable energy that can power as many as 50 000 houses.
Government is speeding up the refurbishment of hospitals and schools, and we have an initiative to establish what we call Ideal Clinics all over the country, to provide the best possible service and facilities to millions of South Africans who are cared for by the public health sector.
However, as we create such infrastructure and services, cable and metal thieves see this as an opportunity to make money through the sale of the valuable materials that are used as we build new facilities.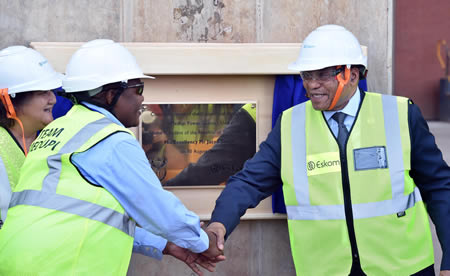 Our concern as South Africans should be that these criminals are not just stealing cable and metal which they often sell for less than the market value of these materials.
Our concern should be that they are stealing a better life from under our noses.
Every square metre (or kilogram) of infrastructure we install anywhere in our country – whether by government or the private sector – exists to improve the quality of life or the efficiency of our economy.
We therefore cannot let syndicates and their foot soldiers get away with the disruption and vandalism they cause.
Our nation's determination to deal with this problem is reflected in the Criminal Matters Amendment Bill that is currently being processed in Parliament, and on which public comment will soon be invited.
This Bill seeks to put an end to the economic losses the country is suffering at the hands of cable and metal gangs. Parliament's Portfolio committee on Justice and Correctional recently heard evidence that in April this year, the cost of replacing metal stolen only from Eskom, Telkom and Transnet amounted to R13,6 million, compared to R12,5 million in April last year.
When public enterprises such as Eskom and Transnet replace stolen metal, it is in fact taxpayers who are taking money out of their pockets to make good after the criminal damage.
The Bill therefore creates a new offence relating to the tampering with or damaging or destruction of essential infrastructure. Some of the sectors covered by the Bill include public sector infrastructure in energy, transport, communications and water and sanitation.
The draft law makes provision for minimum sentences to be imposed for crimes relating to infrastructure, and it takes away the right of police or prosecutors to grant bail to suspected offenders. Bail can only be granted by a court.
While the proposed law is designed to set back the cause of crime, we must as South Africans work together to prevent such crimes from taking place in the first place.
Cable and metal thieves are not alien to our communities. They live and walk among us. They come from our families and neighbourhoods, and so we know who they are and with whom they are cutting their dastardly deals.
Given that these criminals do not spare the communities in which they live, it is necessary for all citizens to keep their open for suspicious individuals or behaviour and to pass on information to our police, municipalities and service providers that can help us arrest these vandals and thieves.
There should be no hiding place for anyone who robs us of a better life that is being created by that vast army of South Africans who dig trenches all over our country each day to install the elements of a better life that all of us can enjoy. Speak up and report crimes against our infrastructure.
Here ís what to look out for:
Criminals posing as contractors working for a municipality, removing cables illegally.
A substantial amount of theft takes place late at night or  very early in the morning so if you see "contractors" removing cables at these odd times, regard it as suspicious.
Individuals walking around with cutting tools.
People removing overhead cables without a job card from eThekwini Municipality.
Suspicious vehicles like bakkies, trucks and minibuses with occupants pretending to conduct electrical work.
No signage on the vehicle
Tips
Do not approach suspects
Report suspicious activity to Electricity's call centre, SAPS or Metro Emergency Line
Monitor the movements and details of people and vehicles. Note the vehicle registration, description of personal and clothing
To report cable theft in your area call 10111
Source: eThekwini Municipality