Written by Priscilla Khumalo
Three thousand trainees contracted for the War on Leaks project have started training at Technical Vocational Education and Training (TVET) colleges.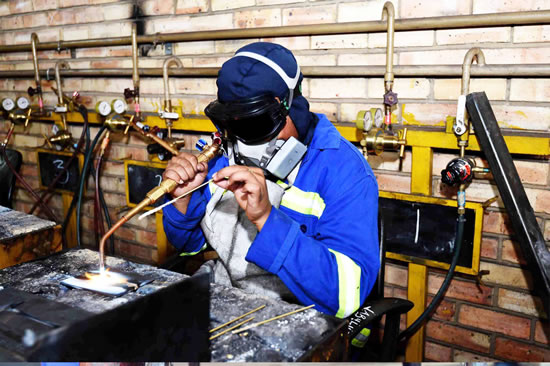 Trainees are currently being upskilled in six disciplines, namely plumbing, instrumentation, fitting and turning, electrical work and welding, with water agents training at various private training institutions. Water agents will be able to transfer knowledge in communities regarding water conservation.
The National Development Plan indicates that by 2030 the country should be producing 30 000 qualified artisans per year.
Deputy Minister of Higher Education and Training Mduduzi Manana said the country is currently producing on average 15 000 qualified artisans per year.
The Deputy Minister is the ambassador for the year of the artisan campaign which seeks to encourage young people to become artisans and get their training in TVET colleges.
"Out of the 100 careers in high demand released by the Minister in 2014, 47 careers are artisanal related. Therefore, TVET colleges and employers become central in the development of artisans," said the Deputy Minister.
The training of the artisans for the War on Leaks programmme will also focus on collecting and recording data, demonstrating knowledge of the water cycle, water and waste water systems and processes, demonstrating knowledge of pipes, associated fittings, valves and meters used in water and wastewater reticulation systems, demonstrating knowledge of water meters and reading techniques, as well as identifying faults in meters.
It will further focus on reading and interpreting maps and engineering drawings of water and waste water reticulation systems, applying water loss control principles, and demonstrating and understanding sections of the Occupational Health and Safety Act
The War on Leaks programme aims to work with municipalities and communities to report and fix water leaks. Unemployed youth are being taught basic plumbing skills that will enable them to assist communities to identify and fix water leaks and conduct water conservation advocacy.
The project is run by the Department of Water and Sanitation and is set out in three phases that will be carried out over a period of five years, 2015 - 2020.
The Department of Water and Sanitation said North West province, Madibeng Local Municipality, Tlokwe Local Municipality, Moretele Local Municipality, Ngaka Modiri Molema Local Municipality, Maquassi Hills Local Municipality and Ventersdorp Local Municipality are among the 41 prioritised municipalities which worked tirelessly to ensure that the selection and recruitment processes were carried out smoothly.